Over the last few weeks, we have been breaking down each team's situation as it pertains to the 2021 NHL Expansion Draft. Which players are eligible, who will likely warrant protection, and which ones may be on the block to avoid the risk of losing them for nothing? Each team is required to submit their protection lists by 4:00 PM CDT on July 17th. The full eligibility rules can be found here, while CapFriendly has an expansion tool to make your own lists.
The last expansion draft was one that the Anaheim Ducks likely want to forget. The team protected seven forwards and three defensemen in order to retain their core offense, but doing this left defenders Josh Manson and Sami Vatanen both exposed. While the Ducks tried to extend their competitive window, they dealt up-and-coming defenseman Shea Theodore to the Vegas Golden Knights in exchange for the team selecting Clayton Stoner instead of Manson or Vatanen. With their roster a shell of itself from four years ago, the Ducks likely won't have nearly as much to worry about this time around.
Eligible Players (Non-UFA)
Forwards:
Adam Henrique, Jakob Silfverberg, Rickard Rakell, Danton Heinen, Sonny Milano, Derek Grant, Troy Terry, Nicolas Deslauriers, Isac Lundestrom, Sam Steel, Max Jones, Vinni Lettieri, Sam Carrick, Alexander Volkov, Nick Sorensen
Defense:
Cam Fowler, Hampus Lindholm, Josh Manson, Kevin Shattenkirk, Haydn Fleury, Jacob Larsson, Brendan Guhle, Josh Mahura, Trevor Carrick
Goalies:
Notable Unrestricted Free Agents
F Ryan Getzlaf, F David Backes, F Carter Rowney
Notable Exemptions
F Trevor Zegras, F Max Comtois, D Jamie Drysdale
Key Decisions
Anaheim's key decision surrounds which protection path they'd like to use. The team is rather well-equipped to use either the 7F/3D route as well as eight skaters, but either way, the team is probably losing a semi-important piece. Anaheim has a glutton of players who are young enough to have promise but too old to be considered prospects, meaning they're all eligible for selection.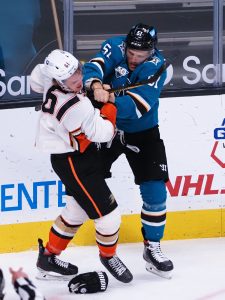 Up front, the Ducks have a group of five forwards in Troy Terry, Isac Lundestrom, Max Jones, Sam Steel, and Alexander Volkov who could all very well be at least reliable middle-six pieces down the line. On defense, there's Haydn Fleury to be concerned about, who's oozed potential since locking down a full-time NHL role and was acquired from the Carolina Hurricanes at the trade deadline.
Mix in the fact that Anaheim has two valuable trade chips that will almost certainly be protected. While not a part of their realistic long-term plans at this point, Rickard Rakell and Josh Manson are both prime trade candidates either this offseason or at next year's trade deadline. Anaheim won't want to lose out on the assets they could recoup for those two, and they'll be protected in either scheme. Cam Fowler and Hampus Lindholm are stalwarts on the blueline and arguably their two best veteran skaters at this point and will be protected. It makes Anaheim's decision rather clear: lose Fleury, or lose one out of the group of young forwards?
In all likelihood, Anaheim leans towards the latter option. Fleury showed legit NHL capability this year, especially down the stretch with the Ducks. He received top-four worthy ice-time, and his possession numbers supported that usage. Meanwhile, both Jones and Steel have struggled to find consistency at the NHL level, while Volkov figures as more of a depth piece anyways.
Projected Protection List
F Rickard Rakell
F Troy Terry
F Isac Lundestrom
F Max Jones
D Cam Fowler
D Hampus Lindholm
D Josh Manson
D Haydn Fleury
Skater Exposure Requirement Checklist
When Vegas had their expansion draft, a minimum of two forwards and one defenseman had to be exposed that were under contract and played either 40 games in the most recent season or 70 over the past two combined.  Due to the pandemic, those thresholds have been changed to 27 games played in 2020-21 or 54 in 2019/20 and 2020-21 combined.  In creating our expansion list for each team in this series, we will ensure that these criteria are met.
Forwards (5): Adam Henrique, Jakob Silfverberg, Sonny Milano, Derek Grant, Nicolas Deslauriers
Defensemen (2): Kevin Shattenkirk, Jacob Larsson
The Ducks won't have any trouble hitting either of these thresholds no matter which protection path they choose. They've got a large amount of veteran skaters signed through next season, meaning that they'll have no trouble exposing two forwards and one defenseman. While names like Adam Henrique or Kevin Shattenkirk seem like potential veteran building blocks for the Kraken, they'll likely be able to find similar players elsewhere that come with a better value proposition. Anaheim should still walk out of the expansion draft with their main roster and core intact.
Photo courtesy of USA Today Sports Images.  Contract information courtesy of CapFriendly.