Friday: Rutta has cleared waivers, according to Elliotte Friedman of Sportsnet. The defenseman has been assigned to the Rockford IceHogs, meaning $1.025MM of his cap hit will be buried. The remaining $1.225MM will continue to be applied to Chicago's salary cap.
Thursday: The Chicago Blackhawks were apparently unable to find a trade partner that wanted to take one of their depth defensemen, and have now risked one to waivers. The team has placed Jan Rutta on waivers today, exposing the 28-year old to the entire league.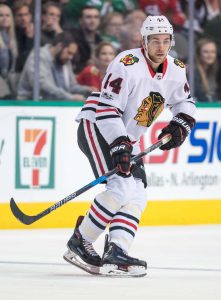 Rutta was originally signed out of the Czech Republic in 2017, and did well enough in a part-time role for the Blackhawks that they decided to offer him an extension this past March. He was scheduled to become an unrestricted free agent, and it took a one-year $2.25MM contract to convince him otherwise. That deal also includes a European Assignment Clause, which is a very important part of today's transactions. If Rutta clears waivers and the Blackhawks attempt to assign him to the minor leagues, there's a chance he could force them to send him to Europe instead.
The idea of him getting claimed might also be unlikely at this point. Though the right-handed defenseman has shown he's capable of playing at an NHL level, his attributed cap hit may end up scaring off any team that shows interest. It's likely what kept the Blackhawks from trading Rutta or Brandon Manning in the first place, given the uncertainty around whether they can actually help a team on a full-time basis. Contenders like Toronto, Boston and Edmonton could have use for this type of player, but might not want to commit all $2.25MM to what is essentially a lottery ticket at this point.
Chicago meanwhile finally ended an eight-game losing streak with a win over the Pittsburgh Penguins last night, and had Carl Dahlstrom make an immediate impact in his first game this season. The 23-year old played 22:34 in the game, only trailing Duncan Keith and the recently returned Connor Murphy in minutes from the blue line. The emergence of Dahlstrom and fellow youngster Henri Jokiharju have made Manning and Rutta expendable, at least as the team looks to try and rebuild their back end on the fly.
Photo courtesy of USA Today Sports Images