With the draft now less than a week away and free agency on the horizon, activity has started to pick up around the league.  Here are the top stories from the past week.
Coyotes Agree To Terms With Ekman-Larsson: Arizona's top player is sticking around for the long haul.  While a new contract can't be signed until July 1st, the Coyotes have agreed to terms on an eight-year, $66MM extension with defenseman Oliver Ekman-Larsson that will kick in starting in 2019-20.  The soon-to-be 27-year-old has been an anchor on their back end since he joined the league as a 19-year-old back in 2010 and will continue to be there for many years to come.  Assuming the deal is made official as expected next month, that will take one of the big-three potential UFA defensemen off the market (the others being Drew Doughty of the Kings and Erik Karlsson of the Senators).
Capitals Will Explore Trading Grubauer: While the UFA market has several goalies who could handle more than a typical second-string netminder, there isn't someone who could plausibly step in as a full-time number one.  Teams looking for someone with starting potential will be looking to the Capitals, who revealed that they will look into dealing Philipp Grubauer.  The pending restricted free agent actually took over as the starter for a brief point this past season and even got the nod to start the playoffs.  It's believed he would welcome an opportunity to take on a number one workload and that's something that won't be available in Washington with Braden Holtby signed for two more years and top prospect Ilya Samsonov also under contract.  Grubauer is only a year away from unrestricted free agent eligibility so wherever he winds up, he'll likely sign a multi-year deal.
Galchenyuk Dealt For Domi: The first notable trade of the offseason was made on Friday with the Canadiens moving winger Alex Galchenyuk to the Coyotes in exchange for winger Max Domi.  Montreal then inked Domi to a two-year, $6.3MM contract.  Both players are natural centers and it appears that Arizona will try Galchenyuk in that role while Domi appears to be earmarked to stay on the wing with the Canadiens as things currently stand.  The move is a swap of a better natural goal scorer (Galchenyuk) for a better playmaker (Domi) which on the surface is a bit perplexing from Montreal's standpoint as they already struggle to score.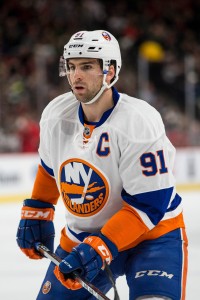 Tavares Focusing On Extension With Islanders: The future of Islanders center John Tavares has been in question for well over a year.  The expectation lately is that he was likely to test the market but that may not be as much of a certainty now following a report that his focus now is re-upping in New York.  The center has long stated that his preference would be to remain with the Isles but given a lot of the off-ice questions, many expected that those would help push him out.  While there is still some uncertainty behind the bench, the well-respected Lou Lamoriello is now in charge while there is hope on the horizon for a new arena down the road which Tavares likely views as positives.  The free agent interview opens up on June 25th which becomes the next important date to watch for as this situation nears a conclusion.
The Hoffman Saga: The Senators have been shopping winger Mike Hoffman dating back to well before the trade deadline with a justifiably-high asking price.  His value now has likely dropped following an off-ice situation regarding his fiancée and comments that were allegedly made by her regarding Erik Karlsson and his wife Melinda.  Hoffman's agent acknowledged that a change of scenery for his client is pretty much now a must which certainly doesn't help Pierre Dorion's leverage in negotiations.  Some around the league believe that Dorion's reputation may also have been damaged as the asking price was believed to be dropped just before this situation went public.  At any rate, it was looking like Hoffman was a near-guarantee to be moved in the days and weeks to come but that may not be the case anymore.
Photo courtesy of USA Today Sports Images.