Navigating the Salary Cap is probably one of the more important tasks for any general manager to have. Teams that can avert total cap chaos by walking the tightrope of inking players to deals that match their value (or compensate for future value without breaking the bank) remain successful. Those that don't see struggles and front office changes.
PHR will look at every NHL team and give a thorough look at their cap situation heading into the 2017-18 season. This will focus more on those players who are integral parts of the roster versus those who may find themselves shuttling between the AHL and NHL. All cap figures are courtesy of CapFriendly.
Current Cap Hit: $66,290,500 (under the $75MM Upper Limit)
Entry-Level Contracts
F Kevin Labanc (Two years remaining, $718K)
F Timo Meier (Two years remaining, $894K)
Potential Bonuses
Labanc: $183K
Meier: $750K
Total: $933K
Labanc didn't make San Jose's roster out of training camp but after being recalled in November, he was pretty much a regular for the rest of the season aside from a brief game or two here and there at the AHL level.  With the team not replacing Patrick Marleau in free agency, they will be looking at Labanc among others to pick up the slack.  Meier didn't see as much NHL action as Labanc did but the fact he was pretty much a regular in the playoffs bodes well for his short-term NHL future.  If one of them can lock down a top-six role by the end of their contracts, they'll be in line to at least double their current pay two years from now.
One Year Remaining, Non-Entry-Level
G Aaron Dell ($625K, RFA)
D Dylan DeMelo ($650K, RFA)
F Jannik Hansen ($2MM*, UFA)
F Tomas Hertl ($3MM, RFA)
F Chris Tierney ($735K, RFA)
F Joe Thornton ($8MM, UFA)
F Joel Ward ($3.275MM, UFA)
* – Vancouver is retaining $500K on Hansen's contract.
Thornton's raise came as a surprise but that only happened once Marleau departed for Toronto.  He has the reputation of being a premier playmaker but is coming off of his lowest points-per-game average since 1998-99 and he'll likely only be on the second line.  Value wise, this isn't a good contract but they have more than enough space to deal with it.  Trading the contract might be tough but Thornton isn't likely to waive his no-move clause anyway.  Hansen is on a bargain contract for someone who is expected to play in the top six.  If he can stay healthy and put up around 35-40 points, he'll be in line to beat the $3MM salary he's earning this season on the open market.  Ward is better off as a third line winger at this stage but has still been a productive player even as he approaches the age of 37.  If he decides to keep playing, he'll be heading for one-year contracts from here on out.  Tierney took his qualifying offer but unless his output takes a big dive, he could stand to double his contract next summer.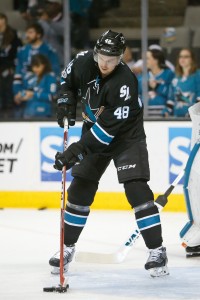 Then there's Hertl, whose case is quite the intriguing one.  He signed a bridge deal last summer and the first year didn't go exactly as either side planned.  A knee injury cost him a big part of the season and he wound up with just 22 points in 49 games.  The Sharks will be counting on him to take a big step forward this season and if he delivers, the long-term, big money contract should be there as he'll have lots of leverage with arbitration rights.  If he only gets back to around the 35-40 point mark though, the question of what his ceiling is will come up – is he a front liner in the near future or more of a middle-six forward?  If that happens, another one-year contract might not be out of the question.
DeMelo was banged up last year and was scratched at times when he was healthy and will likely once again be a depth defender.  He'll be in line for a raise due to his qualifying offer ($735K) but unless he gets regular playing time, he probably won't get much more.  Dell had a fantastic rookie season as the backup goaltender and his cap hit (which falls below the league minimum) looks like a major bargain.  He is positioning himself nicely to be one of the better backups to hit the open market next summer at a time where quality backups are starting to get bigger contracts.