After a disappointing season that saw them miss the playoffs, many expect big changes in Calgary this summer.  Tweaks to the roster alone probably aren't going to be enough and players like defenseman Mark Giordano and winger Johnny Gaudreau have been speculated as possible candidates to be on the move, the former due to their expansion situation where he may have to be left unprotected and the latter due to his contract situation as he's about to enter the final year of his contract.
The other long-term core player that the Flames have is center Sean Monahan and it appears that he's in play as well as Postmedia's Bruce Garrioch reports that the team is listening to offers for the 26-year-old.
It was only two seasons ago that Monahan had a dominant season, one that saw him notch 34 goals and 48 assists in 78 games while he and Gaudreau became one of the more productive duos in the NHL.  At that point, it looked as if he had arrived as the clear-cut number one middleman they hoped they'd get when they selected him sixth overall back in 2013.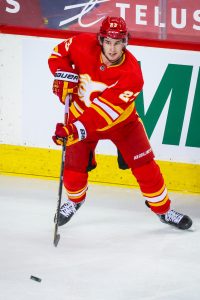 But things haven't gone well since then.  In 2019-20, his production dipped to 22 goals and 26 assists in 70 games in the pandemic-shortened year, the second-lowest point per game rate of his career.  Then came this season where things were even worse.  Monahan managed just 10 goals and 18 helpers in 50 games.  While the fact the pandemic cut the season short again is notable, so too is the fact that his previous career-low in goals was 22.  Suddenly, after being one of their more consistent scoring threats, that element of Monahan's game disappeared and as a result, both Elias Lindholm and Mikael Backlund were more productive this season.
Monahan has two years left on his contract with a $6.375MM AAV with a 10-team no-trade clause, per CapFriendly.  That price tag looked like a bargain two years ago but that isn't the case now based on his recent performance.
Nevertheless, with what is once again a very weak free agent center market and the fact that impact pivots are hard to come by, there still should be several teams interested in Monahan.  While the price tag is high for his recent production, he notched between 58 and 64 points in the four seasons preceding his 82-point campaign so there is a proven level of success and at 26, he still should be in the prime of his career.  In terms of upside, there probably won't be many other centers of that caliber that find their way into trade talks this summer.
With the cap being flat and Seattle's entry into the league, the trade market could be busier than normal as a result.  It looks like Monahan can be added to the list of players that could be on the move in the coming months.
Photo courtesy of USA Today Sports Images.