While the expansion draft is set to headline a busy NHL offseason, there are still several other storylines for each team in the months ahead. Here is a closer look at what lies ahead for the Tampa Bay Lightning.
Expectations were high for the Lightning this season but not much went their way.  Goaltending was expected to be a strength but Ben Bishop (before being dealt) and Andrei Vasilevskiy both struggled at times while they were dealt a crippling blow when Steven Stamkos tore his meniscus early on, ending his season after just 17 games.  Tampa wound up missing the postseason and are now heading into what will likely be a summer of change for GM Steve Yzerman and company.  Here are some key decisions that need to be made.
Rebuild The Blueline
Yzerman hasn't hidden his desire to improve Tampa Bay's back end.  It was reported earlier that he and the Blues had pretty much agreed on a deal for Kevin Shattenkirk but it fell through when they weren't able to agree on a contract extension.  While that one didn't work, it gives teams (and agents) around the league an idea of what they're looking to do.
It wouldn't be all that surprising to see them take another run at Shattenkirk in free agency.  The market doesn't have many players who can play a top pairing role and while they could certainly benefit from the second tiered players, it may not be the best use for the money they have to work with (more on that shortly).
The Lightning have a couple of youngsters who will likely make a strong push for a roster spot next season.  Jake Dotchin spent time with Victor Hedman down the stretch and held his own while 2012 first rounder Slater Koekkoek will be waiver eligible next season.  While those two will likely factor into the roster next year, there is still a need to add from outside the organization if the team intends on getting back into contention.
Shed Salary
Tampa has a little over $55MM committed in payroll for 2017-18 per CapFriendly and they only have 14 players under contract.  They have several key players to re-sign but will have great difficulty getting them all signed without shedding a cumbersome contract or two.
Ryan Callahan dealt with hip trouble for most of the season and has three more years left on his deal with a pricey $5.8MM cap hit.  He also has a full no-move clause which could come into play in expansion.  The expectation is that he will be ready to go to start next season which takes out a long-term stashing on LTIR out of the question as well.  Alex Killorn has six years left on his deal with an AAV of $4.45MM and while he has been a consistent middle six winger, they could decide to try to deal him and stick a cheaper forward in his place.
On the back end, the expiring contract of Jason Garrison ($4.6MM) is likely someone they will be looking to move.  He isn't the top four defender he was in his Vancouver days and is slowing down as he gets older.  If they can't move him (and they'd probably have to attach an asset to get a team to take him), a buyout may be an option as well.  Braydon Coburn is another blueliner that isn't living up to his deal but with two years left at $3.7MM per season, they'll be in tough to find a taker.  Yzerman will need to find a way to move one of these deals if he wants to keep his core restricted free agents in place.
Decisions For RFAs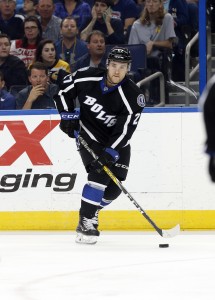 The Lightning have no fewer than three prominent restricted free agents that are all in line for big raises.  Jonathan Drouin had a career year with 53 points in 73 games which was good enough to rank him third in team scoring.  A year removed from a midseason holdout and trade request, he has boosted not only his value to Tampa Bay but his trade value around the league.  He earned just $832K last season before performance bonuses and will surpass that amount by a considerable margin.  Will he be willing to take a bridge deal?  That's a key question and it's plausible that the answer to that will determine whether or not they'll be able to keep him for next season; if they opt to move him, they'll have no shortage of suitors.
Tyler Johnson is a couple of years removed from his breakout 72 point season but is still a legitimate top six centre.  The back loaded structure of his second deal results in him needing a $4MM qualifying offer, a fair bit higher than the $3.33MM cap hit he carried for the last three seasons.  Ondrej Palat is coming off the identical contract as Johnson but his platform year was a bit more productive as he finished fourth in team scoring with 52 points.  At 26, both are candidates for long-term deals but they could also opt to go to arbitration for one year contracts which would set them up for unrestricted free agency next summer.
There's no doubt that Yzerman would like to go long-term with both but it's unlikely they'll be able to do so without losing a core player.  It's certainly shaping up like there will be some tough decisions upcoming this summer.
Photo courtesy of USA Today Sports Images.