The Montreal Canadiens have pulled off the first big trade of the offseason, acquiring Jonathan Drouin and a conditional 2018 sixth-round pick for Mikhail Sergachev and a conditional 2018 second rounder. The picks are conditional on Sergachev not playing in at least 40 games (regular season and playoffs combined) for the Lightning next season, meaning if he spends more than half the season with Tampa Bay it is a one-for-one swap.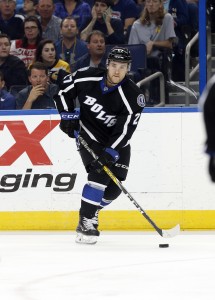 The third-overall pick from 2013, Drouin was a restricted free agent this summer after a breakout campaign in Tampa Bay. After a dispute over playing time limited him to just 21 games in 2015-16, the extremely talented young forward scored 53 points in 73 games for the Lightning this season, showing off some of the potential that had led to his high draft selection. The 22-year old will be looking for a big contract coming off his entry-level deal, something that the Lightning were going to have trouble affording this summer.
Tampa Bay also has Tyler Johnson and Ondrej Palat hitting restricted free agency this summer, and with recent extensions to Victor Hedman, Steven Stamkos, Nikita Kucherov and Alex Killorn, were going to be very tight to the cap. Not only will this open up some of that room, but it also helps fix some of their expansion draft worries.
Partly because of Ryan Callahan's no-movement clause and partly because of their impressive depth up front, the Lightning were set to lose a talented forward in the draft with many speculating it could be Vladislav Namestnikov. By moving Drouin for an expansion-exempt Sergachev, they've given themselves an extra slot to play with and with it the power to protect almost everyone important.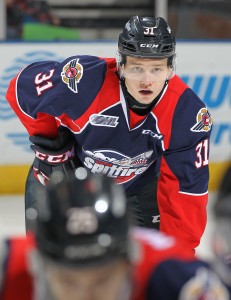 Sergachev himself is an outstanding prospect, who was selected ninth-overall last summer but likely should have gone even higher. Coming off Rookie of the Year and Defenseman of the Year honors in the OHL in 2015-16, he spent a few games at the beginning of the season with Montreal before heading back to the Windsor Spitfires to help them to a Memorial Cup victory on home ice. His play at both ends of the rink is that of a future top-pairing defenseman, though he may still be several years from filling that role for Tampa Bay.
For Montreal, this brings home a native son to try and build as the next Canadiens' superstar. Drouin grew up a Montreal fan within driving distance of the city, and told agent Allan Walsh (who relayed the information on TSN 690):
"This is my dream come true. This is my childhood dream." 
Though Drouin doesn't necessarily solve the problem at center, though he has played the position sparingly in the past. More than likely it gives them a potential elite scoring threat on the wing for many years, as he is still five seasons away from becoming a free agent and is already in talks on a long-term deal with the club. If he can't switch to the middle or move to right wing, it does crowd things for the Canadiens who also currently have Max Pacioretty and Alex Galchenyuk on the left side. That would seem to point to a possible trade of Galchenyuk in the near future, something that has been rumored for a while.
In terms of the expansion draft, Montreal had room to add Drouin without losing something of real value. Their final forward protection slot looked like it would go to Charles Hudon, but even with his exemplary play at the AHL level has yet to make an impact at the top level.
No, this the negative effects of this trade will be felt more on the blue line for the future as Montreal has an aging group that was set to get a jolt of youth next season with Sergachev. They still do have Nathan Beaulieu ready to make a bigger impact, and Noah Juulsen coming quickly from the junior ranks. That said, losing Sergachev does darken the horizon on defense for the time being.
Pierre LeBrun of TSN provided details on the draft pick conditions.
Photos courtesy of USA Today Sports Images