Over the next few weeks, we will be breaking down each team's situation as it pertains to the 2021 NHL Expansion Draft. Which players are eligible, who will likely warrant protection, and which ones may be on the block to avoid the risk of losing them for nothing? Each team is required to submit their protection lists by 4:00 PM CDT on July 17th. The full eligibility rules can be found here, while CapFriendly has an expansion tool to make your own lists.
Philadelphia was able to get through Vegas' expansion fairly lightly with the Golden Knights selecting Pierre-Edouard Bellemare from them back in 2017.  But between their current roster composition and salary cap situation, there's a chance a more notable player heads to Seattle next month.
Eligible Players (Non-UFA)
Forwards:
Nicolas Aube-Kubel, Connor Bunnaman, Sean Couturier, Claude Giroux (NMC), Kevin Hayes (NMC), David Kase, Travis Konecny, Pascal Laberge, Scott Laughton, Oskar Lindblom, Nolan Patrick, German Rubtsov, Carsen Twarynski, James van Riemsdyk, Jakub Voracek, Mikhail Vorobyev
Defense:
Justin Braun, Shayne Gostisbehere, Robert Hagg, Philippe Myers, Ivan Provorov, Travis Sanheim
Goalies:
Carter Hart, Felix Sandstrom
Notable Unrestricted Free Agents
Andy Andreoff, Brian Elliott, Samuel Morin
Notable Exemptions
F Wade Allison, F Jackson Cates, F Joel Farabee, F Tyson Foerster, F Morgan Frost, F Tanner Laczynski, D Cameron York
Key Decisions
There aren't many tough decisions for the Flyers to make.  In goal, it's Hart.  Yes, he had a bad season but Sandstrom hasn't played in the NHL and Hart had two strong years before this one.  On the back end, they have three protection slots and three core defenders aged 25 or younger.  The math is pretty simple there.  But up front, there are some more intriguing decisions to make.
Typically, finishing tied for first in team scoring would generally make it a safe bet that the player who did that would be protected.  However, given Philadelphia's cap situation, it's far from a slam dunk for two of the three players that had 43 points this season (Giroux being a guaranteed protectee with his no-move clause).
Voracek has been a fixture in Philadelphia's lineup for a decade with 604 points to his name in that span.  He still is a big part of their top-six.  However, his numbers have started to dip and he has only been a point per game player once in his 13-year career (the first three were in Columbus).  The 31-year-old also has three years left on his contract at a cap hit of $8.25MM.  That's a particularly pricey contract in this marketplace, especially with the declining production.  His contract could be deemed too expensive to entice Kraken GM Ron Francis or, if he was selected, Flyers GM Chuck Fletcher would all of a sudden have ample cap space to try to bring in a replacement.
The third player that tied for the team lead in points is van Riemsdyk.  He actually had a bit of a bounce-back season while his point per game average (0.77) was the highest of his career.  There are similar arguments to Voracek though in that he's overpriced in this current market at $7MM through 2022-23.  The 32-year-old also benefitted from the power play as 10 of his 17 goals came with the man advantage.  That's a lot of money for a power play specialist, funds that could be redeployed to fill other areas on the roster.
Before digging into the other decisions, let's quickly get through the other likely protectees up front.  Hayes is safe with his no-move clause while Couturier and Konecny are locks as well.  When Fletcher discussed Laughton's contract extension before the trade deadline, he indicated the center would be protected.  Add Giroux to this group and that's five of seven slots.  The remaining two could go to the pricey veterans or to some younger players.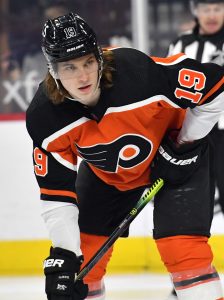 Among their younger pieces, Patrick's case is particularly intriguing.  The good news is that he was able to play this season after missing all of 2019-20 due to a migraine disorder.  The bad news is that he didn't play particularly well, notching just four goals and five assists in 52 games while his -30 rating was tied for the second-worst in the league.  That's not ideal production from any forward let alone one that's four years removed from being the second-overall pick in the draft.  Patrick switched agents this year with his new representation believed to be tasked with evaluating if a change of scenery may be best for both sides.  All of this would suggest that the pending restricted free agent should be left available but he's still just 22 and it's hard to part with the potential upside for nothing.  It's unlikely Seattle would pass him up.
Lindblom, who won the Masterton Trophy earlier this week, is also coming off of a down season, his first full year back after recovering from Ewing's sarcoma.  Eight goals and six assists in 50 games isn't a great return on a $3MM price tag, it's also hard to evaluate him given how long he was off.  To expect him to return to the form he showed the previous two years would have entirely been unrealistic.  Does the benefit of the doubt get him protected?
Four players for two protection slots with cases to protect or unprotect all of them.  That is basically what Fletcher's decision-making will need to be when it comes to Seattle.
Projected Protection List
F Sean Couturier
F Claude Giroux (NMC)
F Kevin Hayes (NMC)
F Travis Konecny
F Scott Laughton
F Oskar Lindblom
F Nolan Patrick
D Philippe Myers
D Ivan Provorov
D Travis Sanheim
Skater Exposure Requirement Checklist
When Vegas had their expansion draft, a minimum of two forwards and one defenseman had to be exposed that were under contract and played either 40 games in the most recent season or 70 over the past two combined.  Due to the pandemic, those thresholds have been changed to 27 games played in 2020-21 or 54 in 2019/20 and 2020-21 combined.  In creating our expansion list for each team in this series, we will ensure that these criteria are met.
Forwards (3): Nicolas Aube-Kubel, James van Riemsdyk, Jakub Voracek
Defensemen (3): Justin Braun, Shayne Gostisbehere, Robert Hagg
Seattle has to take a minimum of 60% of the Upper Limit of the salary cap (which works out to $48.9MM) in existing contracts so there are bound to be some pricey players selected and it could very well be one of Philadelphia's high-priced forwards.  Both van Riemsdyk and Voracek would give them a capable top-six piece without an excessively long commitment while becoming a nice foundational piece to work with.
If they opt for a cheaper player, Braun would seemingly become the favorite to be picked with an eye on flipping the final year (at $1.8MM) of his deal either before the season or at the trade deadline.  Vegas picked and dealt a handful of defenders in their draft and the Kraken may very well following a similar blueprint next month.
Photo courtesy of USA Today Sports Images.  Contract information courtesy of CapFriendly.