With the trade deadline now less than two weeks away, we continue to take a closer look at each team. Where do they stand, what do they need to do, and what assets do they have to fill those needs?
The Montreal Canadiens got off to a flying start to the season, opening up with a 13-1-1 record and looking like real contenders in the East.  They've struggled since then (18-19-7), however, and last week switched coaches as Claude Julien replaced Michel Therrien for a second time.  While the team is hopeful that the change will spark the team, it's likely that they'll be looking to add to their lineup as well for the stretch run.
Record
31-20-8, 1st in Atlantic Division
Deadline Status
Buyer
Deadline Cap Space
$4.1MM – full-season cap hit, 46/50 contracts per CapFriendly
Draft Picks
2017: MTL 1st, MTL 2nd, WSH 2nd, MTL 3rd, MTL 4th, MTL 5th
2018: MTL 1st, CHI 2nd, MTL 2nd, WSH 2nd, MTL 3rd, MTL 4th, MTL 5th, MTL 6th, MTL 7th
Trade Chips
For starters, the Canadiens have five second round picks in the next two drafts as the result of the Lars Eller and Dale Weise deals made last year.  Second rounders are often the currency of the deadline so it wouldn't be shocking to see one or two of those picks move.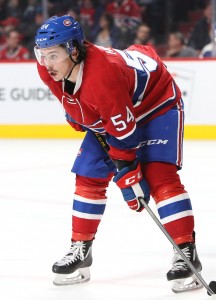 Montreal also has several players who are on the fringes of making the NHL on a full-time basis.  Those players also are regularly moved in deals for rental players with the seller getting a closer look at a youngster to see if they'll fit beyond that season so there's a good chance one or more those players are dealt.  GM Marc Bergevin has indicated that their top prospects are unlikely to be dealt, especially for short-term help.
Many analysts have called the Canadiens an 'all-in' team this season.  If Bergevin does indeed make a big splash or two, players like centres David Desharnais or Tomas Plekanec have been speculated to be traded, primarily as matching salaries if a player with a high salary was to come Montreal's way.
Five Players To Watch For: RW Sven Andrighetto, LW Daniel Carr, C Jacob de la Rose, C David Desharnais, LW Charles Hudon
Team Needs
1) Top Four, Left Shot Defenseman – While Alexei Emelin has fared relatively well at times alongside Shea Weber on the top pairing, he's not an ideal fit as Weber is best served playing with a puck mover.   Nathan Beaulieu has the skill set to complement Weber but his inconsistent play makes it tough to put him into a top pairing role while Andrei Markov at age 38 simply is too old to handle those types of minutes on a long-term basis.
It's unlikely that Bergevin will be able to bring in someone signed beyond this season to fit the bill, especially with the expansion draft looming.  There are, however, a handful of rental players that may fit in well with Weber.  On top of finding a top four option, it wouldn't be surprising to see Montreal try to add a depth blueliner as they have done a few times at the deadline in recent years.
2) Top Six Center – Alex Galchenyuk has spent a good chunk of the year slotted in as the top line center but there are questions as to the depth behind him.  Phillip Danault has exceeded expectations offensively this season but at this point, he isn't a second line option.  Plekanec was supposed to fill that role but he's in the midst of arguably the worst season of his career while Desharnais, only two years removed from a 48 point season, is on the outside looking in at simply getting in the lineup right now.  Basically, if there's a center that's available, there's a good chance that Montreal has at least inquired about the asking price.
Photo courtesy of USA Today Sports Images.