With the trade deadline quickly approaching, we will be profiling several players in the weeks ahead that have a good chance to be dealt by February 25th.
Incremental fourth line upgrades are rarely exciting but several playoff-bound teams will be looking to make them over the next week.  With that in mind, Detroit center Luke Glendening is once again in trade speculation and could soon find himself on the move.
Contract
Glendening is in the second season of a four-year, $7.2MM deal that's slightly front-loaded.  The total salary over the final two years of the deal is $3.2MM.  There isn't any form of trade protection in the contract.
2018-19
Heading into the season, it seemed likely that Glendening would bounce between the third and fourth lines and play his usual checking role.  Instead, he has been asked to play a more substantial role as he has been a fixture on the third line while even dabbling in Detroit's top six from time to time.  As a result, he's on pace for career highs across the board offensively while still being one of the stronger players at the faceoff dot in the league; he ranks tenth league-wide in faceoff percentage (56.2%) among players with at least 500 draws taken this season.
Season Stats
60 GP, 9 goals, 11 assists, 20 points, +8 rating, 15 PIMS, 84 shots, 15:47 ATOI, 41.6 CF%
Potential Suitors
With two years left on his deal after this one, Glendening is someone that non-contenders could, at least in theory, look to add to upgrade their bottom six with an eye on next season.  That said, the likeliest suitors are those that are looking to win now and want a faceoff/penalty kill type of specialist.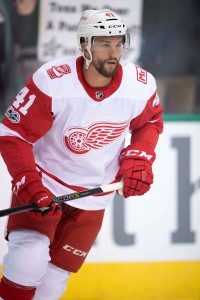 In the East, Toronto has been linked to Glendening already and had interest in him last season as well.  Their fourth line center situation hasn't been the greatest this season with rookies Par Lindholm and Frederik Gauthier having varying degrees of success in that role.  Head coach Mike Babcock is also familiar with him from his days in Detroit.  However, a $1.8MM AAV without any sort of offset may be too much of a premium for a team that's pegged to be very tight to the Upper Limit beyond this season.  Columbus has had all sorts of issues with center depth as of late and could certainly view him as some stability at that spot.  Boston hasn't really replaced Riley Nash (who is now with Columbus after leaving as a free agent) and while their eyes are set on more of an impact pivot at this stage, that could change if the top names go elsewhere.
Out West, Colorado isn't interested in rental help but would like to make some sort of upgrade.  They're near the bottom of the league at the faceoff dot and would slot in nicely on their fourth line.  Dallas could be in the market for depth down the middle with Martin Hanzal potentially done for the year and Jason Spezza (who has seen some time at center this season) set to become a free agent this summer.  With St. Louis all of a sudden looking like possible buyers, Glendening could be the type of small upgrade they target while leaving the core parts of their roster intact.
Likelihood Of A Trade
Between his faceoff prowess and positional versatility, Red Wings GM Ken Holland should be fielding quite a few calls on Glendening if he hasn't done so already.  However, the odds of a trade getting done will likely come down to whether or not they're willing to pay down part of the contract (they can retain up to 50%) or take a player back to offset money that way.  While the 29-year-old would certainly help some contenders, his cap hit is high for someone that's primarily going to be a fourth liner on those teams.  If Detroit's willing to do that, there's a good chance he'll be on the move with the Red Wings picking up a pretty good return for Glendening's services.
Photo courtesy of USA Today Sports Images.