With the trade deadline now just a few days away, we continue our closer look at the situation for each team.  Where do they stand, what do they need to do, and what assets do they have to fill those needs?  Next up is a look at the Vegas Golden Knights.
It's hard to imagine that the Vegas Golden Knights are even an expansion team after the success they've had this season. Just in their inaugural season, the franchise which was expected to be among the bottom teams in the league, is atop the NHL with a league-leading 86 points in the standings and has forced the Golden Knights to re-evaluate their needs at the upcoming trade deadline. Expected to be sellers, the team now has opted to keep their top trade prospects in James Neal and David Perron and may be looking to add as the team makes its historic run towards a playoff spot and, who knows, maybe even a Stanley Cup run. The real question is what should this team do? The team already made a minor move when they were used to help offset some salary for the Pittsburgh Penguins and got enforcer Ryan Reaves in return. However, is general manager George McPhee done or does he have other ideas?
Record
41-16-4, first in the Pacific Division
Deadline Status
Buyer
Deadline Cap Space
$34,263,967 in deadline cap space
43/50 contracts per CapFriendly
Draft Picks
2018: VGK 1st, VGK 2nd, VAN 4th, PIT 4th, CAR 5th, VGK 5th, VGK 6th, TOR 6th
2019: VGK 1st, VGK 2nd, COL 2nd, NYI 2nd, VGK 3rd, NSH 3rd, WIN 3rd, VGK 4th, VGK 5th, MON 5th, VGK 6th, VGK 7th
Trade Chips
Don't expect the Golden Knights to be moving any of their trade chips and don't expect Vegas to make any major moves. One of the many things that is going right for this franchise is the team's chemistry and adding a bunch of players could easily break up what they already have. On top of that McPhee is well aware of the goals and timetable the team had set, so trading away the franchise's future is also just as unlikely. The most likely trade chip the Golden Knights have will be their cap space, which is exactly what they did when they acquired Reaves and a fourth-round pick to help in the Derrick Brassard trade. The team retained $2MM for this year and next, but with their ample cap space, they likely won't notice that hit much. While there has been talks the Golden Knights might try to flip him again, many believe he will stay in Vegas as his personality might be a perfect fit with the chemistry in the locker room. While there are names that could be moved if a team wants some of Vegas' depth, don't count on too many players getting moved out.
Players to Watch: D Jason Garrison, W Brendan Leipsic, W James Neal, W Ryan Reaves, D Luca Sbisa
Team Needs
1) Forward Depth
One thing Vegas is lacking is depth. While the team has been challenged this year when it comes to their goaltending depth, Vegas hasn't been hit as hard when it comes to its offense. Despite minor injuries to Neal and others,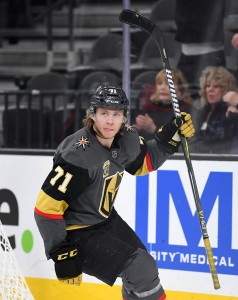 However, even with the addition of Reaves who might be a solid addition to their fourth-line, the team might still want to add some more players who could either play on their back-six or even some veterans that they can add to their AHL club just in case things go downhill.
2) Draft Picks
McPhee has done a great job of adding assets through the draft, which has always been the plan to build up this franchise. He netted two extra first-round picks for last year's draft and has built up assets for the 2019 and 2020 draft. However, the original plan was to accumulate a bunch of picks for this year's draft now at the trade deadline. While the Golden Knights aren't sellers, don't be shocked if they can't add a couple of extra picks in the coming days.
Photo courtesy of USA Today Sports Images.