A little more than a year ago, it looked like Kings goaltender Jonathan Quick was riding out the stretch of his time with the only organization he's known, a stretch that dates back to 2005 when he was drafted in the third round.  His numbers were dipping and with Cal Petersen inking a three-year, $15MM deal, the writing seemed to be on the wall.
But last season, Quick was by far the better of the two netminders, eventually winning back the starting role while starting every game in their first-round loss to Edmonton.  This season, it has been the same with the 36-year-old making more starts than Petersen so far (14-9) while putting up better numbers.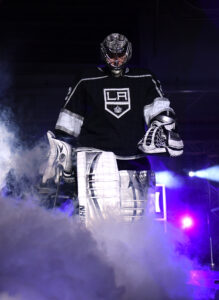 Despite that, Quick told Helene Elliott of the Los Angeles Times that there have been no discussions when it comes to potentially extending his stay for next season with his 10-year, $58MM contract signed back in 2012 set to expire in July.
In his prime, Quick was one of the top goalies in the NHL, helping lead the Kings to a pair of Stanley Cup titles while picking up a pair of Jennings Trophies as well for the best GAA in the league.  His numbers now certainly aren't at that level – he has a 2.76 GAA and a .904 SV% since the start of the 2019-20 campaign – but he has shown that he can still contribute.
Los Angeles doesn't exactly have an in-house replacement that's ready to come up either.  Veteran third-stringer Pheonix Copley is the starter with AHL Ontario with 23-year-old Matt Villalta serving as the backup and neither of them projects to be an impact NHL goaltender.
Accordingly, it would make sense for the Kings to at least investigate what it would take to keep Quick around for another year.  While such a move wouldn't solve their longer-term goaltending question mark, it would be a cheaper short-term solution that would allow them to potentially direct some of their spending to help at another position.
Tristan Jarry, Frederik Andersen, and Semyon Varlamov are the most prominent pending UFAs between the pipes assuming they don't re-sign and would likely cost more than it would to keep Quick in the fold.  It's a scenario that few would have thought possible a couple of years ago when Petersen was anointed the starter of the present and future but to his credit, Quick has done well enough to stay in the mix whether it's with Los Angeles or elsewhere.
Photo courtesy of USA Today Sports Images.