Two postseasons ago before he left Hockeytown for hockey's Mecca in Toronto, head coach Mike Babcock made a blunt assessment of the Red Wings' future following a bitter 2-0 loss in Game 7 against the Tampa Bay Lightning. Babcock said this:
"Our team is not as good as it was. It's very evident. We battled our butt off just to get in the playoffs. You are what you are. [Tampa Bay] had a young team that have been around long enough to rebuild it. They've got young players at key positions. Three of our best players are 34, 35, 37. Any way you look at it, we're a team that has changed a ton of players and added a lot of youth to our lineup, but nobody on the outside picked us to be a Stanley Cup contender."
Missing the playoffs for the first time in a quarter century didn't come as a surprise to many in Detroit. And while Babcock has his Maple Leafs on an accelerated path for what was supposed to be a "painful" rebuild, the Red Wings find themselves older, injured, and looking on the outside of the playoffs for the first time since Steve Yzerman wore the C.
Those in Detroit hoping for a Toronto-like teardown might be disappointed, however, as general manager Ken Holland believes his team needs a few tweaks to compete again. Though this is admirable for a general manager to fight for his team, it doesn't seem all that reasonable as the Red Wings struggled to score goals, had major players regress, and find themselves financially strapped with several long term, high priced contracts. Curiously, senior vice president Jimmy Devellano was quoted as saying "the rebuild is on" which spoke opposite to what the general manager of the club said.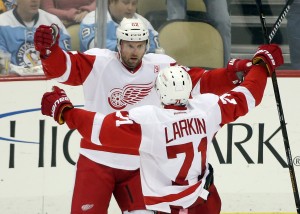 Holland, who spoke with Toronto's Fan 590 and also the Hockey News' Ken Campbell, made it abundantly clear that he is not in it for a tear down. With only a year remaining on his contract, Holland may not view it as viable when success in Detroit is measured with Stanley Cups and playoff appearances. But the fact of the matter is that the Red Wings have been sputtering for some time. Specifically:
Since the retirement of Nicklas Lidstrom, the Red Wings only advanced once beyond the first round. The surprising run in 2013 that saw them squeak into the playoffs and nearly upend eventual champion Chicago seemed more of a red herring than truth when it came to the ability level of the team.
Elite free agents have avoided Detroit, and those who have signed were nearing the end of their career, like Daniel Alfredsson or Brad Richards. Others, like Stephen Weiss or the second go around with Mikael Samuelsson were massive miscalculations that did little to help the team and in many ways, hindered the progress of younger players.
Holland, who was the undisputed king of trades before the salary cap, has appeared gun shy to make moves via trade. Instead, he's been loyal, re-signing the likes of Justin Abdelkader, Darren Helm, Danny DeKeyser, and Jonathan Ericsson to long, expensive deals while seeing little in the way of return. Holland told Campbell that while he'll work the phones to try and improve the team, other GMs may not "like our players or contracts." Ironically, many of those contracts they wouldn't like were offered to current Red Wings by Holland.
The USA Today's Kevin Allen offered his own take and believes Detroit must rely on youth, and realize that their brand is "stale." Allen is a non-partisan national writer without any bias to the Wings. If a pair of eyes outside the organization can see this, Holland may want to consider it.
A rebuild provides a chance to change the image of the Detroit Red Wings, which is now one without stars, on the decline, and appears resistant to change. Reading what Holland says now is nearly identical to what he's said in the past, when the Red Wings were already showing signs of sinking.
Babcock foretold a fall for the Red Wings. Holland has a chance to change course and put the team back on an upward trajectory. But it goes beyond signing older veterans and current players in moving the Wings beyond a fringe playoff team and back into the status of contenders.