The Vegas Golden Knights are a miraculous story. In their first year they've not only been competitive, but have already advanced to the Stanley Cup Finals, knocking off several top Western Conference teams in the process. The upstart expansion club has become many fans' "second favorite team," with people hoping to see something spectacular and historic in 2018. Those bandwagon fans don't include many from Detroit, as the team is losing value every time the Golden Knights advance. They could do so again if Vegas finds a way to win the Stanley Cup.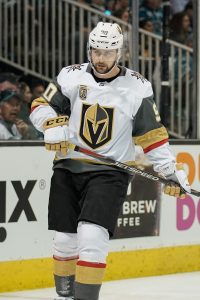 At the trade deadline, the Golden Knights decided to scrap their original plan of selling off expiring assets and instead dropped a big package of draft picks to acquire Tomas Tatar from the Detroit Red Wings. That deal included a 2018 first-round pick, which at the time could have landed anywhere in the bottom third of the draft order. The Golden Knights were good, but many still believed they'd experience a late-season swoon and possible first-round exit.
Instead, Vegas rolled through the latter part of the season and finished in first place in the Pacific Division. That guaranteed the Red Wings would not be able to use the pick any earlier than 25th, and even that would have required several first-round upsets of the other division leaders. What has transpired though, as the Golden Knights continue to win series after series, is a pick that will now be either 30th or 31st. The Chicago Blackhawks will select 27th thanks to their acquisition of the Nashville Predators' pick, while 28 and 29 are destined for whoever loses the Tampa Bay-Washington series and the recently eliminated Winnipeg Jets—though of those three, only Washington actually owns their own pick; Tampa Bay's belongs to the New York Rangers, while Winnipeg sent theirs to St. Louis.
Though the difference in a few picks at the back of the first round isn't as much as it would be at the top, it still carries substantial value. Every time Vegas advances, the Red Wings—who desperately needed to squeeze as much value as possible out of Tatar—will have to wait another few minutes on June 22nd. For a club that is relying on a good 2018 draft to inject more talent into a somewhat lifeless prospect pipeline, there likely has only been frustration at watching the Golden Knights knock off their competitors one by one.
In a few days, Detroit fans will have to bite the bullet and become Tampa Bay or Washington fans. Otherwise their decision to trade Tatar will pay off as little as it could have—just another way Vegas has disappointed other front offices around the league.
Photo courtesy of USA Today Sports Images