The New York Rangers are going to be placing Kaapo Kakko and Filip Chytil on long-term injured reserve, according to USA Today's Vince Z. Mercogliano.
Mercogliano adds that the Rangers "don't believe Kakko's injury is season-ending," although he is set to miss "significant time."
Additionally, Chytil's LTIR placement is retroactive to November 3rd, meaning he can be activated at any time. The move to LTIR clears cap space for recalls in the immediate term, as placing Chytil and his $4.437MM cap hit gives the club additional flexibility to make moves.
In more LTIR-related news for the Rangers, 2020-21 Norris Trophy winner Adam Fox is set to be activated off of the long-term injury list and is expected to return to the Rangers' top pairing alongside Ryan Lindgren.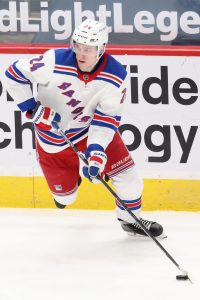 This update on Kakko is both good and bad news for the Rangers. On one hand, Kakko's injury last night definitely looked severe. One could not be blamed for expecting Kakko to miss the entire season due to the injury, even without knowing more details about the injury.
So today's news that the Rangers don't expect the injury to be season-ending, and do believe that it "could have been worse," is certainly welcome.
That being said, the loss of Kakko for such a significant amount of time is a major setback for the Rangers. The 22-year-old 2019 second-overall pick has undoubtedly had his fair share of issues this season, and his three points in 20 games are a far cry from the 18 goals and 40 points he scored in 2022-23.
That being said, this injury now robs Kakko of what looks to be, at the very least, a massive chunk of his 2023-24 season. While he had struggled in his first 20 games, there was no guarantee that those struggles would continue for the full 82-game slate.
Kakko's defense and play along the boards have long been appreciated by the Rangers, so maybe with a few more months the points he started tallying with more regularity last season would start coming this year. Maybe, by the end of this season, Kakko could have put together a convincing case to be a long-term member of the Rangers' core.
Now Kakko has lost the chance to take those major steps forward in his development, at least until far later in the season. Moreover, this injury means the Rangers will be working with significantly less information as to where Kakko stands and what his future holds when they enter contract negotiations with him this offseason.
As for Chytil, as mentioned this move to LTIR is purely cap-related. He's begun skating again and is moving closer to a return to the ice. He's been out since November 2nd.
Fox's return is the good news for the Rangers. He's the team's most important defenseman and arguably its best skater. He's scored more than 70 points in back-to-back seasons and is on pace to score 80 points if he stays healthy the rest of the way. Fox was injured in the same game as Chytil, but his return could come a bit sooner as he's expected to play tomorrow.
Photos courtesy of USA Today Sports Images