The Ottawa Senators enter next season with the intention of competing for a playoff spot. Pierre Dorion referred to this past season as a "big step in the right direction" during his end-of-season media availability, and is reportedly even considering dealing the seventh-overall pick for more immediate help.
But perhaps the biggest reason the Senators can be optimistic about their playoff odds for next season is the emergence of goaltender Anton Forsberg as a legitimate number-one option. Forsberg, 29, played in 46 games last season, going 22-17-4 with a .917 save percentage and 2.82 goals-against average. Forsberg had been a third goalie and backup for most of his career to that point and had been claimed off of waivers three times en route to his Ottawa breakout. The Senators rewarded Forsberg for his strong play, signing him to a three-year $2.75MM AAV contract.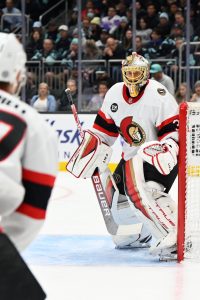 The emergence of Forsberg as the Senators' starting goaltender could not have come at a better time given the decline of the previous starter, Matt Murray. Murray has had a nightmarish time as a Senator since signing a four-year, $25MM extension. He has gotten into only 47 games and has posted a combined .899 save percentage and 3.46 goals-against average over two seasons in Ottawa. Murray also cleared waivers with the Senators, indicating how far his value has fallen since he won back-to-back Stanley Cups as a member of the Pittsburgh Penguins.
But despite Forsberg clearly displacing Murray as the Senators' starter, the Senators' goaltending situation does not figure to be a simple one going into next season. Sportsnet's Jeff Marek reports that there is a "strong possibility" that the Senators will take the unorthodox route of carrying three goaltenders on their active roster next season. The three goaltenders would presumably be Forsberg, Murray, and the young Filip Gustavsson, who is still only 23 years old but is set to be waiver-eligible next season.
While carrying three goalies on their roster is by no means illegal or against any rules for the Senators to do, it is unconventional. It is generally believed to be an arrangement that most goaltenders find uncomfortable, and since goaltenders develop best when they see consistent game action, one has to wonder if fighting two other goalies for starts is the best developmental environment for Gustavsson.
Those concerns won't be nearly as loud, though, if the Senators can find a way to deliver on the team's promise of returning to contention. Winning can be the ultimate cure for awkward roster situations, so with that in mind, the Senators have to hope that Forsberg repeats last season's performance and Murray can repeat his early 2022 form that saw him post a .924 save percentage in January and a .943 in February.
Looking at it optimistically, if the Senators do indeed carry three goalies and the trio can manage to play well, perhaps the arrangement can help keep each goalie rested and consistent throughout the 82-game grind that is the regular season. Regardless of what the Senators choose to do with their goalies at the start of the season, though, the deciding factor on whether the team will carry three goalies for a full 82-game slate will be the performances of the goalies themselves.
Photo courtesy of USA Today Sports Images