Though he was scheduled for an arbitration hearing today, Ryan Dzingel has signed a new contract with the Ottawa Senators. The two-year deal is worth a total of $3.6MM, closer to Dzingel's ask of a one-year $1.95MM contract than the team's proposed $1MM pact. Though he'll cause a $1.8MM cap hit, here is the salary breakdown: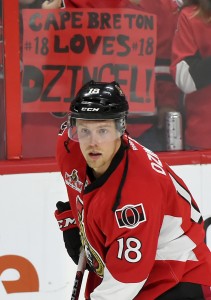 2017-18: $1.5MM
2018-19: $2.1MM
Dzingel put up a solid first full season this year, registering 32 points and contributing in all situations. His speed and secondary scoring touch are a solid addition to any lineup, and for just $1.8MM per season is a solid bargain. He's already 25, which means this contract takes him right to unrestricted free agency, but the Senators could keep the price down by not buying out any UFA years.
That marks the last restricted free agent for the Senators this summer, and with it they have opened a short buyout window for themselves. Each team that had at least one player file for salary arbitration is given this window whether or not the decision comes from the arbitrator or the two sides come to their own agreement, as in this case. They'll have 48 hours starting on Monday to perform any further buyouts.
Getting players like Dzingel in under cheap contracts for next year is important for Ottawa, as they're facing new deals for Mark Stone, Kyle Turris and Cody Ceci in the summer of 2018. Not to mention the whopping contract that's coming for Erik Karlsson a year later, that could rival Connor McDavid's $12.5MM per season. The next couple of summers are going to be very interesting for the Senators.
Photo courtesy of USA Today Sports Images