Free agency is now a little more than a month away and teams are looking ahead to when it opens up.  There will be several impact players set to hit the open market in July while many teams have key restricted free agents to re-sign as well.  We continue our look around the NHL with an overview of the free agent situation for the Colorado Avalanche.
Key Restricted Free Agents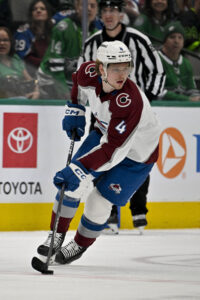 D Bowen Byram – Although injuries once again took a large bite out of Byram's games played total this season, a solid sophomore campaign cemented the 2019 fourth-overall pick as the third-best defenseman on perhaps the most dynamic 'D' corps in the league. The 21-year-old bested defense partner Samuel Girard in points per game, average time on ice, and plus-minus this season, although more advanced metrics weren't kind to either Girard's or Byram's defensive impacts this year. With Byram still just 21 years old, a long-term deal seems appetizing to keep his cap hit lower as the Upper Limit rises over the years. However, with a significant injury list that includes multiple concussions, Colorado could very well opt for a two or three-year deal to lower long-term risk. He would again be a restricted free agent upon expiry. While cap space won't be a huge immediate concern for Colorado with captain Gabriel Landeskog's injury, they'd still like to have money to spend in free agency to improve their scoring depth. Expect a cap hit in the $4-5MM range on Byram's next deal, likely around three seasons.
F Alex Newhook – Newhook didn't meet the lofty expectations set for him in 2022-23 after he was slated as the team's second-line center heading into opening night. He was quickly surpassed on the depth chart by a player who we'll mention later on in this piece, and he recorded a marginal 30 points whilst playing in all 82 games this season. The 22-year-old is still showing flashes of his 16th overall billing, so it's not time to give up hope on him reaching that stage in 2023-24. However, it shouldn't be an assumption for the second straight season – Colorado is likely to fill out the second-line center spot in free agency, and Newhook's next cap hit will likely reflect that of bottom-six expectations. Given where Newhook's at in his development, he'll likely petition for a short-term deal, setting himself up for a payday from the team once he does reach his ceiling.
F Denis Malgin – Malgin wasn't anyone you'd expect to see described as a key player at the beginning of this season, but after an early-season move from the Toronto Maple Leafs, he was a capable bottom-six scorer on a team sorely needing offensive acumen at the lower end of their lineup. Scoring 11 goals in just 42 games with Colorado, he finished ninth on the team in goals despite not arriving until close to Christmas. He's been around the block, playing over 250 NHL games (including a stint in Switzerland that kept him out of the league for two seasons), and is in his final season of RFA eligibility. There likely isn't much room for growth in Malgin's game, but Colorado would do well to keep him around on an affordable two-year deal to give themselves some options when building out their third and fourth lines.
Other RFAs: D Wyatt Aamodt, G Justus Annunen, D Nate Clurman, D Ryan Merkley, F Ben Meyers, F Sampo Ranta
Key Unrestricted Free Agents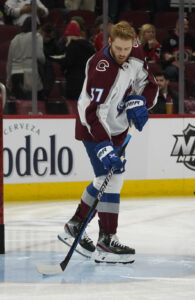 F J.T. Compher – Arguably the savior of Colorado's season, Compher broke out in a big way in 2022-23. He'll be one of the most desirable free-agent centers in a weak market after playing over 20 minutes a night, recording 17 goals and 52 points in 82 games. The 28-year-old did shift to center almost full-time this year but is still proficient enough on the wing, so if Colorado goes out and signs a Ryan O'Reilly type to sit on the depth chart behind Nathan MacKinnon, it's not an exclusionary factor to bringing Compher back. He'll be earning a significant increase on his $3.5MM cap hit, however, likely to the tune of $1MM or $2MM.
F Evan Rodrigues – Another possible returnee, Rodrigues had his best offensive campaign to date in 2022-23. He would've set career highs had he played in all 82 games, posting 0.57 points per game (39 in 69). Entrusted with top-six minutes, the 29-year-old gave Colorado stellar value on his one-year, $2MM 'show me' deal signed last September. He could very easily double his cap hit this offseason, especially if another team pries his services away.
F Lars Eller – Now 34, Eller's still got what it takes to be the ideal archetype of a veteran bottom-six center. Acquired at the trade deadline from the Washington Capitals, the Dane is on track to hit 1,000 games next season. He's never been a terribly consistent offensive talent from season to season, but his 23 points in 84 games this year were his lowest total in a full season since 2010-11. He's best suited for a fourth-line role at this point, a spot Colorado may want to keep open for a younger player in their system. Finances shouldn't be an issue if they do want to retain him, as he shouldn't command much more than $1MM this offseason.
D Erik Johnson – The longest-tenured member of the Avalanche organization likely won't be signing anywhere else this offseason. The 2006 first-overall pick waited until the playoffs to score his first goal of the season, recording just eight assists in 63 regular-season games, but Johnson has become one of the most-loved leaders in the Avs room and has stuck through the ups and downs of the franchise over the past decade-plus. After wrapping up a seven-year, $42MM contract, he could be brought back at league minimum.
Other UFAs: F Andrew Cogliano, F Alex Galchenyuk, F Darren Helm, F Charles Hudon, D Josh Jacobs, D Jack Johnson, G Keith Kinkaid, F Mikhail Maltsev (Group VI UFA), F Matt Nieto
Projected Cap Space
One thing's for sure – general manager Chris MacFarland will have some room to play, although not for a great reason. Landeskog's continuing knee issues will keep him out for 2023-24, and while they won't have their captain on the ice, they'll be able to repurpose his $7MM cap hit via LTIR. CapFriendly has Colorado slated for just over $20MM in projected pre-season cap space, meaning they'll have an eight-digit figure to throw around in unrestricted free agency after locking Byram, Newhook, and Malgin up to their deals.
Photos courtesy of USA Today Sports Images.  Contract information courtesy of CapFriendly.