Well, as if the Canucks were upset by the earlier report that they were just a front-runner, the team has announced a one-year entry-level contract with Swedish defenseman Philip Holm. It had been rumored that the Maple Leafs and Blackhawks were two of the other teams interested. The deal will see Holm paid $925K in the NHL, and was the only length he could have accepted due to his age.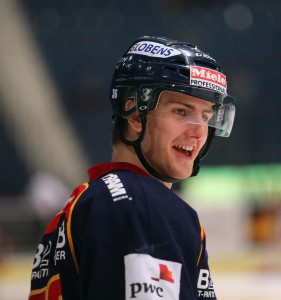 The 25-year old played for Vaxjo this year, recording 21 points in 52 games. Canucks GM Jim Benning released a statement about why they went after Holm.
Philip is a mobile, two-way defenceman who adds depth to our blueline. He made strides in his development last season with Vaxjo and played a strong series with Sweden at the World Championships. We're pleased to welcome him to the Canucks organization.
It sounds as though the Canucks have been scouting Holm for a while, mentioning the strides he took this season when joining Vaxjo. Along with Calle Rosen, who signed with the Toronto Maple Leafs, Holm was part of one of the most mobile pairings in the league and saw his point total triple while his responsibility was also severely increased. The left-handed defender will compete right away for a job in Vancouver, especially if the team does move on from Alex Edler or Chris Tanev this summer. They had already lost one defenseman in Nikita Tryamkin when he decided to head back to the KHL earlier this spring.
Holm will be a restricted free agent after next season, making this quite risk-free as far as moves for the Canucks. They get to see if the young defenseman can be part of their team going forward, without locking up a roster spot for too long. The rebuilding team will search every avenue to try and kickstart their turnaround, and European free agents—especially ones who can hold their own against NHL talent at international tournaments—is one way to do that.
Ben Kuzma of Postmedia reported the financials on the deal. 
Photo courtesy of USA Today Sports Images