For months now, there have been whispers that the Washington Capitals are "running out of patience" with forward Evgeny Kuznetsov, and when GM Brian MacLellan spoke to the media today he certainly didn't douse the flames of speculation. As Stephen Whyno of the Associated Press tweets, MacLellan indicated that is open to trading anyone (save for Alex Ovechkin and Nicklas Backstrom) this offseason if it makes the team better. When asked specifically about Kuznetsov, he expressed some of that lack of patience:
If he can't play at his highest ability, we're not going to be a good team and we'd have to make some other decisions. 

I don't know, I think it's been inconsistent for a few years here, and it has hurt our team.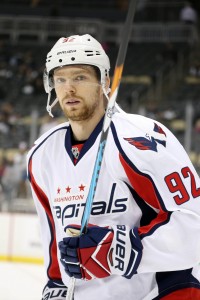 In January, the 29-year-old Kuznetsov was part of the group that broke COVID protocol and caused the Capitals to incur a $100K fine from the league. He ended up on the COVID Protocol Related Absences list for the next 18 days, unable to practice or play with the team in the early part of the season. Earlier this month, he and teammate Ilya Samsonov were late for a meeting and benched for a game, only to show up on the COVID list once again. He would spend 13 days unavailable this time, right as the team was preparing for and playing in the first round of the playoffs. Kuznetsov would return for three games against the Boston Bruins but failed to record a point as the Capitals were defeated.
In 2019, Kuznetsov was given a four-year suspension from the IIHF after he tested positive for cocaine at the World Championships. The NHL eventually suspended him for the first three games of the 2019-20 season due to inappropriate conduct. Kuznetsov accepted both suspensions, apologizing to those that he let down and vowed: "to take ownership of my situation and my actions from this point forward."
At his best, Kuznetsov can be one of the most dynamic players in the NHL. He showed it in 2017-18, scoring 83 points in 79 games and then leading the league in playoff scoring en route to a Stanley Cup. He could have easily been the choice for the Conn Smythe Trophy that went to Ovechkin, who scored five points fewer than Kuznetsov's 32 in the 24-game run. In his career overall, the playmaking center has 418 points in 520 games and scored 29 this season in 41. There is no one who questions his talent, just his consistency.
Kuznetsov is signed through the 2024-25 season at a $7.8MM cap hit and carries a 15-team no-trade list. That kind of contract isn't easy to deal but it is easy to see why a team might be interested. Centers of his offensive ability don't reach the market very often, especially not at his age and experience level. For the Capitals, who will need to re-sign Ovechkin this summer and tweak the lineup for another run, that cap space could be useful. So could Kuznetsov if he's playing to his capabilities, which is why a trade certainly isn't a guarantee.
Photo courtesy of USA Today Sports Images