Today is the day many hockey lifers have been waiting for, as a few esteemed individuals will get their call from the Hall today. The 2023 class will be as follows:
Ken Hitchcock – builder
Pierre Lacroix – builder (posthumously)
G Tom Barrasso – player
G Henrik Lundqvist – player
F Caroline Ouellette – player
F Pierre Turgeon – player
G Mike Vernon – player
Hitchcock's induction as a builder comes as no surprise. He's been a staple in the NHL coaching fraternity for decades, known for his tactical brilliance and ability to transform teams into contenders. With a career spanning over 1,500 games coached, Hitchcock boasts an impressive coaching resume that includes a Stanley Cup victory with the Dallas Stars in 1999 and a Jack Adams Award with the St. Louis Blues in 2012. Known for his meticulous attention to detail and emphasis on defensive play, he's left an indelible mark on the sport. After stints with the Stars (twice), Philadelphia Flyers, Columbus Blue Jackets, St. Louis Blues, and Edmonton Oilers, Hitchcock last coached in 2018-19.
Lacroix's posthumous induction is obviously a bit of a bittersweet moment. As the former general manager of the Colorado Avalanche, Lacroix was instrumental in building one of the most dominant teams of the late 1990s and early 2000s. Under his guidance, the Avalanche won two Stanley Cups in 1996 and 2001. Best known for pulling off one of the most impactful trades in NHL history by acquiring netminder Patrick Roy from the Montreal Canadiens, Lacroix was Colorado's general manager dating back to the team's final season in Quebec, 1994-95, before transitioning to a president role in 2006. Lacroix passed in December 2020 at the age of 72.
To the surprise of many, this year's class includes a trio of goalies – although a notable absence remains in Curtis Joseph, who sits seventh in league history in wins and games played. Barrasso was a name many had wondered about for a while in regards to his Hall of Fame likelihood, known for his fierce competitiveness and exceptional athleticism. He backstopped the Pittsburgh Penguins to consecutive Stanley Cup victories in 1991 and 1992, and although his career numbers of a .892 save percentage and 3.24 save percentage are far from impressive (even for his era), he was known as one of the more clutch goalies in the league over his 19-season career. The five-time Vezina nominee totaled 777 NHL games, mostly with the Penguins and Buffalo Sabres. 51 of those 777 games were spent in short stints with the Carolina Hurricanes, Ottawa Senators, St. Louis Blues, and Toronto Maple Leafs.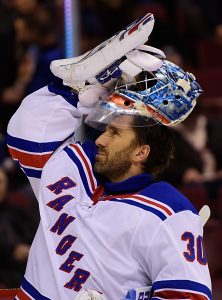 Now, for the only first-time eligible player on this list, Lundqvist (or "The King" to most in New York) captured many hearts during a long and admirable career with the Rangers. One of the best to ever play the position without winning a Stanley Cup, Lundqvist's consistency allowed him to be the nucleus of Rangers teams that routinely made it deep into the playoffs throughout the 2010s. He was a perennial Vezina Trophy finalist and became the Rangers' all-time leader in wins, clearing second-place Mike Richter by over 150. He technically retired as a member of the Washington Capitals, although a career-ending heart issue kept him out of the lineup during his only season there.
Vernon is the true wild card on this list, although he made a name for himself as the backbone of the Calgary Flames, leading them to their first and only Stanley Cup victory in 1989. His fiery demeanor and unwavering determination made him a fan favorite in the city, and he's among the top 25 netminders in NHL history in terms of longevity. One Vezina nomination and play that wavered wildly throughout his career may have made his election to the Hall a surprise for some, but he is one of the more hallowed names in Flames history.
On the offensive side, Ouellette's induction solidifies her as one of the most prolific scorers of the 21st century. A longtime member of the Canadian women's national team, Ouellett has an unparalleled list of achievements in women's hockey. She captured four Olympic gold medals while recording 1.3 points per game, six World Championship gold medals, and four CWHL championships. She was also appointed as an Officer of the Order of Canada in 2019 and named to the IIHF Hall of Fame earlier this year.
Last but not least is Turgeon, whose offensive prowess and playmaking ability made him a natural choice for induction. Over his 19-year NHL career, Turgeon amassed over 1,300 points and showcased his scoring touch with five seasons of 40-plus goals. Known for his smooth skating and exceptional vision on the ice, Turgeon was a force to be reckoned with, leaving a lasting impression with the Buffalo Sabres, New York Islanders, and St. Louis Blues – also spending chunks of time with the Montreal Canadiens, Dallas Stars, and Colorado Avalanche.
It'll have to wait another year for notably snubbed stars like Alexander Mogilny and Sergei Gonchar, both of whom should be statistical locks based on some comparable players who've already been inducted.