After signing a PTO with the Ottawa Senators last month, a deal that did not earn him a full contract, Michael Dal Colle has made the decision to take his talents overseas.
Per a team announcement, TPS Turku, a club in the Finnish Liiga, has signed Dal Colle to a contract for its 2022-23 season.
Dal Colle, 26, is perhaps best known for being the fifth-overall selection at the 2014 draft. After a stellar draft season in the OHL, a year where he scored 39 goals and 95 points in 67 games, Dal Colle was selected there by the Islanders and immediately slotted in as one of their top prospects.
Dal Colle had two more strong scoring seasons in the OHL, although he didn't have a dominant breakout campaign like other top prospects have had. He finished his final OHL season with 80 points in 60 games, which was actually a decrease in points per game compared to his draft season.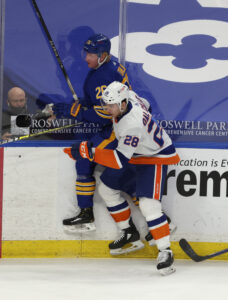 Dal Colle's professional track record has mirrored his OHL progression. Dal Colle made an instant impact as an AHL rookie, scoring 41 points in 75 games, but he had a disappointing sophomore campaign.
Dal Colle earned an NHL call-up after an impressive 34-game run in 2018-19, a performance that earned him 28 NHL games.
He looked to have finally made it to the NHL full-time after 2018-19, as he played in 53 NHL games the very next season. But since that 53-game year, (where he scored just 10 points) Dal Colle has played in 27 NHL games, including just one last season.
With his exit from the Islanders organization and his PTO with the Senators not materializing into a full contract, Dal Colle seems to have simply run out of NHL organizations willing to commit resources to him.
Now, Dal Colle will head to the top Finnish league and hope to have a strong season as both a scorer and 200-foot player.
Because he's still just 26 years old and doesn't turn 27 until June, it's not hard to imagine that an excellent campaign at Turku could generate some interest in North America for Dal Colle's services.