We're continuing to break down each team's situation as it pertains to the 2017 NHL Expansion Draft, coming up next week: which players are eligible, and which will likely warrant protection or may be on the block. Each team is required to submit their protection lists by 4pm CDT on June 17th. The full rules on eligibility can be found here, and CapFriendly has provided a handy expansion tool to make your own lists.
Missing the playoffs for only the first time in 25 years, the Detroit Red Wings plan on rebuilding but still keeping the playoffs in their sights. Detroit is in an interesting situation as they hold a slew of draft picks, and a number of contracts they could expose, giving some relief if one is taken.
Eligible Players (Non-UFA)
Forwards:
Henrik Zetterberg, Gustav Nyquist, Tomas Tatar (RFA), Justin Abdelkader, Darren Helm, Riley Sheahan, Luke Glendening, Anthony Mantha, Andreas Athanasiou (RFA), Frans Nielsen (NMC),
Defensemen:
Mike Green, Jonathan Ericsson, Danny DeKeyser, Niklas Kronwall, Nick Jensen, Xavier Ouellet (RFA).
Goaltender:
Jimmy Howard, Petr Mrazek, Jared Coreau
Notable Exemptions
Key Decisions
One of the chief reasons the Red Wings have lost their footing as a contender is not only a lack of high draft picks, but some disastrous decisions when it came to handing out contracts. Though I have written about this before, it bears repeating that under general manager Ken Holland, the Red Wings will always be loyal and choose to, as Holland always says, "draft and develop" before looking elsewhere for help. This is a key point to keep in mind as decisions are to be made. One of the biggest knocks on Holland is that he falls in love with his players–especially those he drafted.
One of the simplest ways Detroit could get salary cap room would be by protecting those who are absolutely necessary and allowing several high priced players to be exposed. Holland stipulated that he will be going with the 7-3-1 format when it comes to keeping players, and that will allow for some higher priced players to be exposed. Additionally, Holland has made it clear he will not part with draft picks in order to move contracts. Options, then, are aplenty.
Henrik Zetterberg will be protected because of his role as captain, and the all but guaranteed moment of his number hanging from the rafters. Barring some sort of crazy change, Zetterberg will be protected.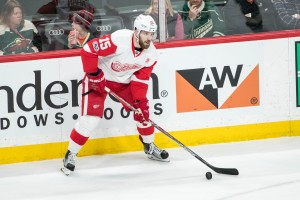 Riley Sheahan is a curious case. Sheahan struggled mightily, scoring two goals all season, both coming in the final game of the year. Still young and only a $2M cap hit, he could be snapped up. Sheahan has to be due for a bounce back, and with a hodgepodge of new talent and a fresh start in Vegas, it could be a boon for him professionally.  It's a risk the Wings have to look at, being that the bounce back could also occur in Hockeytown.
Abdelkader is also an interesting case. He is owed a lot of money ($4.25MM AAV) through 2023, and hasn't produced to justify the expense. But this is where Holland's loyalty comes in. It's highly unlikely Vegas would take him at that hit for the next six years while the Red Wings are believed to be grooming Abdelkader as the next captain of the team. Expect Abdelkader to be on the protected list. But rolling the dice and putting Abdelkader out there would not only allow them to hold onto a cheaper player who seems prone for a bounce back, but also provides the chance of getting significant cap relief should Abdelkader be selected.
Darren Helm and Luke Glendening at this point are role players who both hold higher cap hits ($3.85MM and $1.8MM respectively). Helm has traditionally been a third line center while Glendening spends the majority of his time on the fourth. They should both be exposed.
Finally, a quirk in CBA wording made Anthony Mantha eligible for the expansion draft. Holland will have no choice but to include him on the list. Detroit blog Winging It In Motown did a great job of breaking down the verbiage in the CBA that makes Mantha eligible.
Projected Protection List
F – Henrik Zetterberg
F – Anthony Mantha
F – Andreas Athanasiou
F – Frans Nielsen (NMC)
F – Justin Abdelkader
F – Tomas Tatar
F – Gustav Nyquist
D – Mike Green
D – Xavier Ouellet
D – Danny DeKeyser
G – Petr Mrazek
The goalie situation is another precarious case for the Wings, as Mrazek, who was anointed the starter last year, struggled to gain form and saw Howard take over the top spot until injury caught up with him. Coreau just backstopped the Grand Rapids Griffins to a Calder Cup trophy and comes very cheap as  an NHL backup, especially with little NHL experience to his name. The choice here would have to be Mrazek, as Howard has only a couple years left and can rarely stay healthy enough to maintain a #1 job. Youth and Mrazek's potential are reasons to protect him. The Czech netminder has flashes of brilliance and should Detroit restock with a stalwart defense and supportive scoring, it's not out of the question that Mrazek could be one of the best in the league.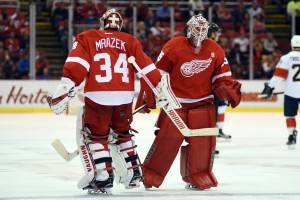 On defense, the Wings will protect both Green and DeKeyser, the latter who they re-signed to a large deal that was panned by many, especially after DeKeyser sputtered last season. Still relatively young at 27, the Wings are trying to find a #1 or 2 defenseman that would ease the pressure on DeKeyser. The real question comes in at who to protect after that. The loyalty piece of Holland could put Kronwall on the list of protected because of his time in Detroit. The 36-year-old defenseman has been lauded for his leadership abilities as well. But that leaves a number of young talent exposed, namely Ouellet, and Jensen. The better bet is that Kronwall will be exposed, and the Wings will protect Ouellet over Jensen. Their numbers were similar this season, but Ouellet, just about three years younger than Jensen, seems the smarter choice to place on the protected list. It is highly unlikely that Kronwall will be taken, being that he experienced a major dip in play last season due to a nagging knee injury. His mobility and skating ability isn't close to what it once was.
The takeaway with the Red Wings is that they are truly a team in transition. Their building blocks for nearly a decade are aging, they have question marks in net, and defensively, there is no clear cut number one or number two defensemen.  While they don't have a lot to lose in terms of talent, Holland will most likely defer to youth rather than loyalty when making his final choices.
Photos courtesy of USA Today Sports Images