Over the next few weeks we will be breaking down each team's situation as it pertains to the 2017 NHL Expansion Draft. Which players are eligible, and which will likely warrant protection or may be on the block. Each team is required to submit their protection lists by 4pm CDT on June 17th. The full rules on eligibility can be found here, and CapFriendly has provided a handy expansion tool to make your own lists.
After finishing the 2015-16 season with 81 points (a 27 point increase on the previous year) a Stanley Cup-winning coach and a budding superstar who had scored 56 points as a teenager, the Buffalo Sabres felt pretty good about their future. So they went out and gave a 28-year old Kyle Okposo a seven-year, $42MM deal, traded for Dmitry Kulikov and held onto the off-ice troublemaker Evander Kane. It looked like they would compete for the playoffs this season, but the optimism wasn't held for long.
Decimated by injury, the team couldn't put it together even after Eichel's mid-season return and would finish with just 78 points. They now head into this offseason with a much different outlook, clearing house and bringing in first-time GM (save for a short interim period in Pittsburgh) Jason Botterill to hire coaches for both the NHL and AHL clubs. They'll pick eighth once again in this year's entry draft and have quite a lot of picks in the first few rounds, though are looking to compete next season and catch up with the success that Edmonton and Toronto realized this season. In terms of expansion, they find themselves in a pretty good spot because many of their prized possessions are still ineligible for selection.
Eligible Players (Non-UFA)
Forwards:
Ryan O'Reilly, Kyle Okposo (NMC), Evander Kane, Matt Moulson, Tyler Ennis, Nicolas Deslauriers, William Carrier, Zemgus Girgensons, Justin Kea, Marcus Foligno, Johan Larsson
Defensemen:
Rasmus Ristolainen, Zach Bogosian, Josh Gorges, Jake McCabe, Justin Falk, Brady Austin
Goaltenders:
Notable Exemptions
Jack Eichel, Sam Reinhart, Alexander Nylander, Nicholas Baptiste, C.J. Smith, Hudson Fasching, Brendan Guhle, Justin Bailey, Viktor Antipin
Key Decisions
The Sabres have no need to go with the eight skater route unless they make a move for a defenseman prior to the draft, and even then it would mean exposing some of their forwards for no reason. With Franson and Kulikov both headed to free agency, there isn't a glut of defenders to protect this season. Their biggest decisions will be with the last couple of spots up front, for which there are some interesting candidates.
Obviously O'Reilly will be protected, as he's likely the team's second best forward and is still just entering his prime. Though the trade and contract hasn't worked out exactly as Buffalo had hoped, the 26-year old is still an excellent center capable of competing among the elite players of the game. Okposo too will be protected, though his no-movement clause doesn't give much chance otherwise. He had a scary bout in the hospital recently, but he is apparently on the road to recovery and should be ready for next season. Kane, for all his trouble outside of the rink is still an effective scoring threat inside of it and will be protected. Whether he starts next year in Buffalo may be another story, but the team won't just give him away for free.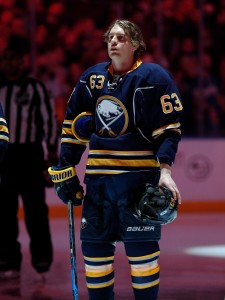 The interesting decisions come in the next few slots. It's been two years now since Ennis was an effective scorer in the league, dealing with injury and ineffectiveness throughout the year. With just 24 points in 74 games combined over two seasons, his $4.6MM cap-hit looks incredibly high. There are only two more seasons on it, but like Moulson who is in a similar situation, Ennis just doesn't produce at a high enough level anymore to warrant the deal. The Sabres could leave him available, or protect him and hope for a big bounce-back year in his age-28 season. Similar things could be said for Foligno and Girgensons, who still haven't found that next level in their offensive production. They each are solid NHL players, and have room to grow but are both restricted free agents this summer and decisions will have to be made on their future with the club.
Among the other interesting young players are Larsson and Carrier, both of whom are second-round picks who have shown snippets of their potential as solid NHL contributors. Larsson missed most of this season due to injury, while Carrier made his NHL debut and stuck for 41 games. Perhaps Botterill believes that one of them has more to give offensively, or could be part of a shutdown line in the future. Vegas would certainly take a risk on either one as they've already shown they're at least capable of staying in an NHL lineup.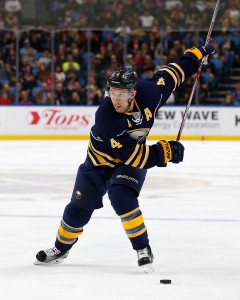 On defense, there isn't much to decide outside of perhaps what to do if Gorges is selected. It would be hard to see him earn a protection slot, but the veteran still did log valuable minutes for the Sabres this season. The 32-year old defensive specialist has just one year left on his contract, but could be part of a leadership group in Vegas should they decide he's worth it.
In net, Lehner will be protected and given the reins to the team once again. Ullmark does pose an interesting option for Vegas, as he has actually posted a strong .913 save percentage in 21 NHL starts. At just 23 he's ready to take on a bigger role and should spend most of the season in the NHL if Anders Nilsson isn't retained this summer.
Speaking of Nilsson, he represents one of the possible free agent acquisitions that Vegas could sign prior to the draft if they choose. That would mean forfeiting their selection from Buffalo, but perhaps he or one of the free agent defensemen—Franson or Kulikov—would be worth it. Franson is still a good possession player with solid offensive upside, even if he does need sheltering at times from tough defensive matchups. With such a lack of right-handed shot defensemen on the market, perhaps he would be appealing to the young Vegas club. Giving up their selection from Buffalo would be tough though, and would need them to believe a bidding war of sorts would occur after July 1st—something that for any of the Sabres' free agents would be hard to believe.
Projected Protection List
F Kyle Okposo (NMC)
F Ryan O'Reilly
F Evander Kane
F Zemgus Girgensons
F Marcus Foligno
F Johan Larsson
F William Carrier
D Rasmus Ristolainen
D Zach Bogosian
D Jake McCabe
As Botterill continues to try and reshape the team into what he wants going forward, leaving exposed the big, underperforming cap-hits of Ennis and Moulson seems like the way to go, even if it does give up the chance of a bounce-back. A 27-year old, three-time 20-goal man would be tough to watch walk out the door, but the Golden Knights would almost certainly jump on Carrier or Larsson if left unprotected.
There is always a chance that the team moves Kane or another forward before the draft, opening up another slot for them to protect. Like many other teams that need defense though, acquiring one before the expansion draft from a worried club would put one of your own at risk. While Bogosian has been somewhat of a disappointment since he arrived from Winnipeg, giving him up for free seems a bit short-sighted. That means a deal for one of the surplus Anaheim defenders, or a Minnesota blueliner doesn't seem in the cards in the next few weeks.
One thing to note is that newly signed Viktor Antipin is not eligible for the draft, despite his extensive experience in the KHL. The years of professional experience he gained in Russia don't count towards the expansion draft requirements because he wasn't playing them under an NHL Standard Player Contract (SPC). He's a first year pro, and will be untouchable in the draft.
Photos courtesy of USA Today Sports Images