The Washington Capitals held their end-of-season media availability today after being knocked out of the first round by the Boston Bruins. One of the most pressing questions, and seemingly one that wasn't talked about enough this season, was the future of Alex Ovechkin, who is a pending unrestricted free agent. There is no cause for concern, as Ovechkin joked and explained he is confident a deal will get done:
I'm confident. Obviously we still have time, obviously I want to finish my career here. I'm pretty sure we will do something soon. 

Maybe we'll sign a contract right now, after the media.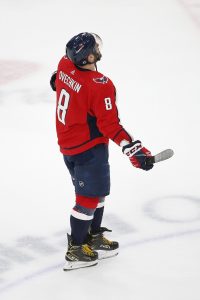 Ovechkin, 35, dealt with injury for really the first time in his career, missing several games down the stretch for the Capitals. He finished with 24 goals and 42 points in 45 games, failing to win the Rocket Richard trophy for just the second time in the last nine years. It was also the first time since 2016-17 season and just the third time in his career that his average time on ice dipped below 20 minutes, with perhaps the cracks of age finally showing on the Russian machine.
Still, a legacy player like Ovechkin isn't going anywhere. He will almost certainly sign a new multi-year contract with the Capitals and finish his NHL career with the franchise, attempting to chase down Wayne Gretzky's goal-scoring record. In 1,197 career games, Ovechkin now has 730 goals, fifth all-time and 164 behind Gretzky.
The interesting part isn't whether he will return to Washington, it's how much it will cost them. Ovechkin is dealing with the negotiation himself, working with owner Ted Leonsis and GM Brian MacLellan directly. The veteran sniper is coming off a 13-year deal he signed in 2008 that carried a cap hit of $9,538,462 and paid him $10MM in each of the last seven seasons. That cap hit actually might go up on his next contract.
In January, Frank Seravalli wrote for TSN that Ovechkin's pre-pandemic ask was a $12.5MM per-year salary. That number would tie him with Connor McDavid as the league's top earner, and though the flat cap situation may have changed things, the eventual deal is still expected to be quite large. That is going to make it tough for the Capitals, who already have more than $72MM committed to next season and will likely need to make other changes after getting bounced in the first round.
Photo courtesy of USA Today Sports Images