The New York Islanders have acquired center Bo Horvat from the Vancouver Canucks in exchange for forwards Anthony Beauvillier, Aatu Raty, and a lottery-protected 2023 first-round pick. The trade was announced officially by both teams Monday afternoon.  Stephen Whyno of the Associated Press notes that Vancouver is retaining 25% of Horvat's $5.5MM AAV as part of the deal.
New York will retain their 2023 first-round pick if it's among the top 12 selections, reports Sportsnet's Elliotte Friedman. Assumedly, if the pick does land in the top 12, the Islanders would send Vancouver their 2024 first-round selection.
The trade call ends months of speculation about a Horvat trade, which really began as soon as the Canucks fell flat out of the gate to start the season. With the team's poor defense and goaltending rendering them entirely out of the playoff picture, Horvat's status as a pending unrestricted free agent made him a spectacular trade candidate.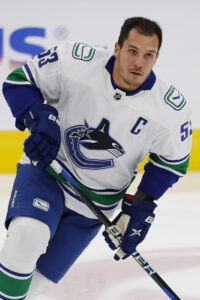 Vancouver's now-former captain had always been perceived as a strong top-six center with good two-way skills and was especially appreciated for his strong marks in the faceoff circle (56.6% over the past two seasons). Horvat's goal-scoring exploded this season, though, and his 31 goals rank eighth in the NHL.
Those 31 goals and Horvat's 54 points instantly make him the Islanders' leader in both categories this season. If utilized on a line with Mathew Barzal, whose main weakness is faceoffs (just 35.9% this season), the Islanders suddenly have one of the most potent playmaking/scoring duos in the league now.
Some may argue, and they'd be valid to do so, that the value in this trade swings the way of the Islanders and general manager Lou Lamoriello. At first glance, the price doesn't seem quite as astronomically high as previously rumored.
Yet there's no report of an extension for Horvat, and with Lamoriello's low success rate of signing unrestricted free agents, there's no guarantee Horvat is more than a rental. The team's roster isn't terribly well set up with Horvat, either. There's certainly a scenario 18 months from now where the Islanders end up with no Horvat, no top prospect in Raty, and without a high-end pick in the 2024 draft.
With the Islanders still out of a playoff spot and a month before the Trade Deadline, Horvat may not even finish the season on Long Island. If the team fails to gain much ground in the playoff race or in extension talks with Horvat, he could be flipped to a contending team at the deadline if the Islanders can garner a similar (or better) return on the trade market.
While Vancouver won't be adding to their Connor Bedard odds as the pick is top-12 protected, they still get a second dip from a 2023 first round stocked with talented prospects. Add in Raty, who's looking much more like the first-round talent he was expected to be after falling to 52nd overall in the 2021 draft, and Vancouver's future outlook suddenly looks much brighter.
The Canucks also gain a solid top-nine winger in Beauvillier, although his $4.15MM cap hit through 2024 is a tad steep. He's still a solid bet to net between 30 and 40 points per season and could be solid trade bait for the Canucks at next year's trade deadline as well. The 25-year-old has nine goals and 20 points in 49 games this year.
Photo courtesy of USA Today Sports Images