The Vegas Golden Knights are in a better situation now than any of the last few NHL expansion franchises. Sure, some would look at their roster and see a team that could easily finish last in the entire league, devoid of high-end talent or superstar potential; but as we've already discussed they had a heck of a first entry draft and are set to improve themselves again at the deadline this year. It could be a quick build for the league's 31st franchise.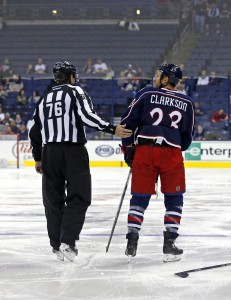 Following Nate Schmidt's arbitration decision this weekend, in which the Golden Knights locked up another trade deadline asset for a reasonable price, the team currently projects to have around $5.6MM in cap space for the upcoming season. That number may not look very large, but it is actually quite deceiving. The Golden Knights have two players—David Clarkson and Mikhail Grabovski—who will never suit up for another NHL game and are destined for long-term injured reserve should the team need it. Their combined cap hit of $10.25MM would be available to the Knights if they acquired more salary, and there is where the team will really bring in the most value.
Clarkson and Grabovski are already examples of how eating a bad contract can be beneficial for a team. The Columbus Blue Jackets and New York Islanders both sent a first-round pick this year and a second-round selection in 2019 to move the contracts off the books (and decide which player would be selected in the expansion draft), leading to Vegas' huge draft haul. Those deals are just the tip of the iceberg for what Vegas could pull off in the next few years. In July, Vegas owner Bill Foley made it clear that there was "no budget" for the club, and that they'd use financial muscle to vault them into the NHL spotlight right away.
Vegas also has eleven defensemen at the moment, and whether or not that is reduced by trade prior to the year or burying certain contracts in the minors, there is more space coming off the salary cap for the NHL team. Even a conservative estimate of an additional $3MM in created room puts the team at around $19MM in in-season cap space, a huge number they could use to their advantage. Recently we've looked at some of the worst contracts in the league, both in a per-point capacity and looking forward on long-term deals. Vegas is a clear landing spot for any of these under-performers.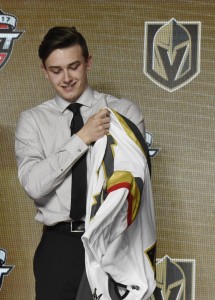 The question then, becomes whether the team believes it can truly compete in the next five years. Acquiring bad contracts is fine if you're committed to a long rebuild, one that will be starting to turn into a competitive window as the contracts expire. But if Vegas GM George McPhee believes that the trio of Cody Glass, Nick Suzuki and Erik Brannstrom will jump start the process enough to really compete before say, Dustin Brown's five remaining years expire then they have to be hesitant to acquire such a bad deal.
Vegas has just $11.6MM committed to active players for the 2019-20 season. Whatever you say about their decisions in the expansion draft, they've put themselves in a position to act as a sort of cap haven for teams around the league and stockpile young assets because of it. They already have fourteen picks in rounds 1-3 of the next three drafts, including a whopping seven selections in 2019. They'll easily have even more than that at the end of the year, and more still the summer after that. Draft picks are like lottery tickets, but if you're the only one playing you stand quite a good chance of winning.
Photos courtesy of USA Today Sports Images