In the NHL, signing players after they turn 35-years old comes with some added restrictions and capabilities. For one, those players are now eligible for one-year contracts that include performance bonuses, a way to mitigate risk for the team while still providing opportunities for previously successful players. The big restriction though, is that the cap hit of any contract signed after 35 will stay on the books regardless of what happens with the player. Whether their bought out or retire, the team will still face the full cap hit for the entire length of the deal.
This year, we saw Colorado swallow their pride and buy out Francois Beauchemin even with this extra clause, and they will face the full $4.5MM cap hit this season. Mike Cammalleri, who is now 35 himself and was similarly bought out will not fall under this rule because he signed his contract several years ago. Only if the contract is signed after 35 does it come into effect.
With that clear, let's look at some of the players who will be under contract for the 2018-19 season and could potentially cause their teams a cap hit without actually playing for them. Here are all the 35+ contracts that will still be active after the coming season.
Patrick Marleau – Toronto Maple Leafs
The Toronto Maple Leafs signed Patrick Marleau to a three-year, $18.75MM contract this offseason and took a substantial risk in doing so. Marleau turns 38 before the season starts, and though he has been known to keep his body in great shape throughout his career is clearly on the regular downward trajectory every player experiences. The Maple Leafs did an interesting thing to reduce some of their risk however, by front-loading Marleau's contract and paying nearly the whole thing out in signing bonuses.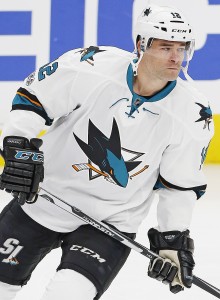 On July 2nd 2019, a few months before the final season of the contract begins, Marleau will have just $1.25MM left owed to him. Though he'll be 41 for that season, and still carrying a $6.25MM cap hit, he'll be a near-free option for a team struggling to hit the cap floor. That's assuming he's not still effective and the Maple Leafs want to keep him around, though they will be paying their young players like Auston Matthews a good chunk of the cap and may need the room. Marleau does have a no-movement clause, but if he's set on retiring anyway it likely wouldn't matter to him if his contract was traded.
Justin Williams – Carolina Hurricanes
Williams signed a two-year deal with the Hurricanes to return to the place he won his first Stanley Cup, and he comes with very little risk for the club in terms of retirement. Still a very effective scoring option, last season Williams actually registered his highest goal total since his days in Carolina a decade ago. It's hard to see how he would fall so far in 2017-18 to make him think retirement was the only option.
That said, there is always a chance that a 35+ player could fall off a cliff production wise or just reach a point in his life that he wants to move on from hockey. If he did that next summer, the Hurricanes would be on the hook for a $4.5MM cap hit with no player to show for it. Luckily, the Hurricanes are one of those cap floor teams and an empty hit like that would pose no issue to their salary structure. They'd rather have an effective Williams in the lineup, but this deal came with almost no risk.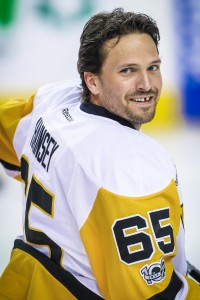 Ron Hainsey – Toronto Maple Leafs
Here come the Maple Leafs again, who handed out two multi-year deals to 35+ players this offseason. Hainsey comes fresh off a Stanley Cup victory with the Pittsburgh Penguins in his first taste of the playoffs, and will be expected to log difficult minutes in Toronto to take some pressure off their young group. His two-year, $6MM deal also comes front loaded should the team need to move him next summer.
Hainsey will be 38 when the contract expires, and some have already started to point out his deficiencies as the years roll on. With the Maple Leafs having to make decisions on James van Riemsdyk, Tyler Bozak, William Nylander and Leo Komarov next summer, any further decline from Hainsey could be a problem. With no buyout relief available, the Maple Leafs would likely have to bite the bullet and keep him around through the end of the deal.
Alex Burrows – Ottawa Senators
It took a two-year extension from the Ottawa Senators to get Burrows to waive his no-trade clause at last year's deadline, and that number will be tough to watch for the team should he continue his rapid decline. For a player who once scored 35 goals in a season, Burrows had just 24 the last two combined. While he did show some better jump in the Ottawa lineup, the team has several young players who will deserve more playing time over the next couple of seasons.
$2.5MM isn't the end of the world, but when you're a team who works on a tight internal budget like the Senators every dollar can mean a lot. Without the buyout option and the risk of Burrows hanging it up, that $2.5MM could haunt them next summer. Luckily, it will expire before the team needs to shell out the dollars for Erik Karlsson, who will be eligible for extension next offseason but won't have his expected record-breaking deal kick in until 2019-20.
Ryan Miller – Anaheim Ducks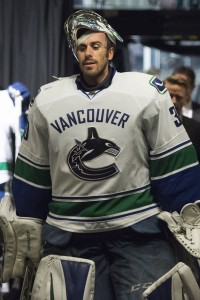 Anaheim took a risk handing out a 35+ contract to Miller, but there doesn't seem to be any sign of him wanting to retire just yet. He's now closer to his offseason home with actress Noureen DeWulf, and $2MM per season to backup John Gibson seems like a perfect scenario 37-year old goaltender. Even though he could suddenly turn ineffective, their faith in Gibson and his similar inexpensiveness (he's owed just $2.3MM in each of the next two seasons) covers their back.
Derek MacKenzie – Florida Panthers
The two-year extension the Panthers gave their captain last summer was a surprising one, if only because you don't usually see players of his stature receive a guaranteed contract a year before they're due for one. MacKenzie signed his first 35+ contract, but it comes at such a small cost—$2.75MM total over two years—that it poses little risk. The team wouldn't need to buy him out, and even if he were to hang up his skates next summer they would have plenty of cap room. Besides, the Panthers have had great success with 35+ contracts in the past—just ask Jaromir Jagr.
Photos courtesy of USA Today Sports Images