June 23rd, 2011 is a day that fans of the Blue Jackets would like to forget.  They made a big splash at the draft that day, acquiring center Jeff Carter from Philadelphia.  He was supposed to be one of the centerpieces of their forward group but it didn't work out like that at all.
Before even looking at what they gave up to get him, let's look at Carter's tenure with Columbus.  It lasted all of 39 games where he picked up 11 goals and 10 assists, numbers that were considerably down from his time with the Flyers.
Some may want to attribute that to the fact that he simply didn't want to be there.  Philadelphia dealt Carter before his trade protection kicked in and he didn't hide the fact that he wasn't happy about it.
So, what did the Blue Jackets give up for those 39 unhappy games?  A young winger and two draft picks.  That doesn't sound terrible until you look at who those players wound up being.
The young winger was Jakub Voracek who was coming off his entry-level deal and had already established himself as a capable top-six forward.  The seventh overall pick in 2007 took his game to another level in Philadelphia as expected and has spent a large portion of his time since then as a fixture on their front line.
One of the two draft picks was the eighth overall selection in 2011.  That was used on center Sean Couturier.  While it took some time for the offensive side of his game to blossom, he has been an effective defensive pivot throughout his career.  Heading into this season, he had back-to-back 76-point seasons and was on pace for another 70-point year before the pandemic hit.  Couple that with his defensive skill set and you have a legitimate number one center which is what Columbus was trying to get when they added Carter.  The other draft pick, a third-round selection, was used on Nick Cousins who has carved out a decent career thus far even though he has bounced around over the last few years.
(It wasn't all good news for Philadelphia though.  This move, coupled with the swap of Mike Richards to Los Angeles, gave them enough cap savings to pave the way for them to sign Ilya Bryzgalov to a nine-year contract.  He was bought out two years later and the Flyers are now paying him through the 2026-27 season to not play for them.)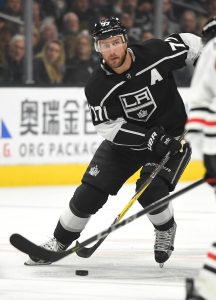 Needless to say, that initial trade didn't work out very well for Columbus at all.  Unfortunately, this wound up being somewhat of a double whammy situation as the deal that saw him leave the Blue Jackets wasn't much better.  Unfortunately, that's what happens when you have a disgruntled and underachieving player who still had 10 years left on a now-illegal contract with a cap hit of over $5.27MM per season.
Carter wound up being moved to the Kings with Columbus receiving defenseman Jack Johnson and a first-round pick in return, a far cry from what they gave up to get him only eight months earlier.
While Johnson has taken a lot of heat for his current contract with Pittsburgh, he was a quality defender with the Blue Jackets, logging more than 23 minutes a night over parts of seven seasons with them.  However, while he was trending toward being a two-way threat in Los Angeles, that part of his game rarely resurfaced in Columbus as he was more of a physical, stay-at-home defender.  The upside was there but he didn't live up to it.
The same can be said for who they selected with the 2013 first-round pick which turned out to be Marko Dano. He was holding down a regular spot in the KHL in his draft-eligible season which is no small feat but his offensive game never really materialized and instead, he has spent the bulk of his six full years in North America in the minors.  They salvaged a bit of value by including him as part of the Brandon Saad–Artemi Panarin swap but that's still not a great return on a first-round selection.  As it turns out, Dano is now actually back with Columbus and could be among their recalls for their play-in series against Toronto after spending most of the year with AHL Cleveland.
Carter, meanwhile, went on to have a bit of a resurgence with the Kings, posting at least 50 points in each of his first four full seasons after the trade.  He has slowed down since then though as injuries have limited him to just 82 points combined in the last three years.  The 35-year-old still has two years left on his current contract.
In acquiring Carter, then-GM Scott Howson was hoping to pair a star center with their star winger in Rick Nash.  Instead, they wound up with a trade tree to forget.
Photo courtesy of USA Today Sports Images.