With the trade deadline fast approaching, we will be taking a closer look at the situation for each team.  Where do they stand, what do they need to do, and what assets do they have to fill those needs?  Next up is a look at the Detroit Red Wings.
The trades have already begun in Hockeytown as the Detroit Red Wings realize that it'll be another season without a playoff appearance. Restocking a thin prospect pool, and getting younger are priorities for a team that hasn't been a true contender in nearly a decade.
Record
24-25-9 (57 points); 5th in Atlantic
Deadline Status
Seller
Deadline Cap Space
$1.62MM per CapFriendly
Draft Picks
2018: DET 1st, DET 2nd, OTT 2nd; DET 3rd, PIT 3rd, DET 4th, PHI 4th*,  DET 6th, MON 6th.
2019: DET 1st, DET 2nd, DET 3rd, PHI 3rd*, DET 4th, DET 5th, BUF 5th, DET 6th, DET 7th
-* conditional picks
Trade Chips
What hasn't been written about who the Red Wings have made available? The Red Wings have been shifting players out of Detroit since October, dealing Riley Sheahan to Pittsburgh and then sending Scott Wilson to Buffalo after he didn't work out following the Sheahan trade. Goaltender Petr Mrazek was flipped to Philadelphia yesterday, starting what many believe will be the movement of other Red Wings. Mike Green is all but gone–the only questions remain where and when?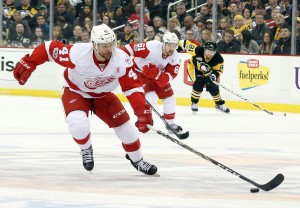 Tampa Bay and Washington seem to be the front runners but don't count out the Vegas Golden Knights, who have the draft picks Ken Holland covets. Gustav Nyquist is another name linked with other contenders as well as winger Luke Glendening, who could see a reunion with former bench boss Mike Babcock in Toronto. The Red Wings could retain salary on Green, making his contract hit much less since he's in the final year of a deal.
More intriguing names to watch are defenseman Danny DeKeyser, netminder Jimmy Howard and forward Tomas Tatar, who could potentially find new homes for the right team. However, DeKeyser and Tatar are owed a lot of money with a lot of years while Howard will most likely be shipped near the draft when teams are retooling rosters. Finally, Xavier Ouellet a possibility to move on as well.
Names To Watch: Mike Green, Gustav Nyquist, Luke Glendening, Xavier Ouellet, Tomas Tatar. 
Team Needs
Defensemen: The Red Wings are a mess on the blue line, their Achilles heel since losing Nicklas Lidstrom and Brian Rafalski to retirement in 2012 and 2011 respectively. Unable to properly address it, Detroit has to find top end talent or try and get high enough draft picks that will net a defenseman who could contribute soon. There's help on the way–with promising d-men in Filip Hronek and Villi Saarijarvi, but fairly, that was also said about Ouellet, and Ryan Sproul, who was traded for Matt Puempel. Dennis Cholowski is playing well in the WHL, but he may still be a year away. Many wonder if Ken Holland looks back with disdain at not taking Jakob Chychrun when he had the chance during the 2016 draft. Regardless, building depth and finding those top pairing defensemen has to be the top priority. Though they need a couple big time scoring forwards as well, the key to Detroit's resurgence is solidifying the blue line, once a stalwart of the Red Wings' success in the 90's and 2000's.