Navigating the Salary Cap is probably one of the more important tasks for any general manager to have. Teams that can avert total cap chaos by walking the tightrope of inking players to deals that match their value (or compensate for future value without breaking the bank) remain successful. Those that don't see struggles and front office changes.
PHR will look at every NHL team and give a thorough look at their cap situation heading into the 2017-18 season. This will focus more on those players who are integral parts of the roster versus those who may find themselves shuttling between the AHL and NHL. All cap figures are courtesy of CapFriendly.
Current Cap Hit: $75,034,795 (over the $75MM Upper Limit)
Entry-Level Contracts
RW Ryan Hartman (one-year remaining, $863K)
C Nick Schmaltz (two-years remaining, $925K)
C Vinnie Hinostroza (one-year remaining, $718K)
D Gustav Forsling (two-years remaining, $872.5K)
D Ville Pokka (one-year remaining, $650K)
Schmaltz is a lock for the roster along with Hartman but Hinostroza depending, on the play of a number of players, could find himself in Rockford to start the season. A strong training camp could give him a chance to usurp a few veterans on a PTO while also grabbing a spot away from the likes of a Tomas Jurco, Jordin Tootoo or Lance Bouma. Forsling will most likely spend the bulk of the season in Rockford, barring major injury or a lack of production from one of the veterans. Pokka will vie with Forsling for a spot, but many expect Cody Franson to have the upper hand when it comes to defensemen making the team, leaving the two youngsters as either a healthy scratch, or starting in Rockford.
One Year Remaining, Non-Entry-Level
F Lance Bouma ($1M, UFA)
RW Patrick Sharp ($800K, UFA)
LW/RW Tomas Jurco (800K, RFA)
RW/LW Tommy Wingels ($750K, UFA)
RW Jordin Tootoo ($700K, UFA)
D Michal Kempny ($900K, UFA)
D Michal Rozsival ($650K, UFA)
It's an interesting list of players with one-year deals, but Sharp, who is back for a second go-around with the Hawks, could find himself shuffled between the top and bottom six on any given day. Expect Sharp to be the player who takes a similar approach to the now retired Brian Campbell: a reunion in Chicago that could be extended yearly based on his body holding out and production remaining consistent. Sharp spent the last two seasons playing in pain, but after hip surgery, he now feels better. If this rejuvinates him, he could be a bargain deal.
This is dependent on a number of factors, namely, which young kids could see rotation within the lines. Jurco is an acclamation project, a castoff from the Red Wings who could play a big role should he live up to the once-upon-a-time expectations he promised. Wingels, Rozsival and Tootoo are most likely playing out a contract in Chicago while Kempny is playing for a longer term deal. Bouma is most likely a one-and-done in Chicago, but if he can recapture the scoring touch he had two seasons ago in Calgary, he could be a Panik-like revelation and earn some extra years in the Windy City.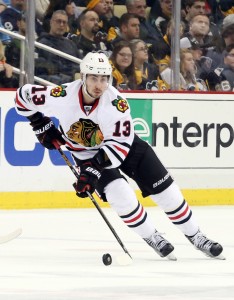 Two Years Remaining
RW Richard Panik ($2.8M, UFA)
C Tanner Kero ($750K, RFA)
G Anton Forsberg ($750K, RFA)
G Jean-Francois Berube ($700K, UFA)
Panik received a very cap-friendly hit for a player who found a niche in Chicago, netting 44 points (22-22) in a career year. Kero filled in nicely during a slew of injuries, planting himself as a dependable third line center on a very economically friendly deal. Forsberg and Berube will both have chances to rotate in as backups.
Three Years Remaining
G Corey Crawford ($6M, UFA)
Crawford may be over 30 but he continues to be a dependable and often game-stealing force in the net for Chicago. Though the Hawks blue line is older, Crawford hasn't shown signs of true regression, as his numbers held steady during a season when Chicago wasn't nearly as defensively dominant.
Four Or More Years Remaining
Patrick Kane ($10.4M, Runs through 2022-23)
Jonathan Toews ($10.4M, Runs through 2022-23)
Brandon Saad ($6M, Runs through 2020-21)
Artem Anisimov ($4.5M Runs through 2020-21)
Duncan Keith ($5.5M Runs through 2022-23)
Brent Seabrook ($6.85M Runs through 2023-24)
Connor Murphy ($3.85M Runs through 2021-22)
Marian Hossa ($5.28M Runs through 2020-21)
The bulk of Chicago's salaries are long-term and while some appeared to be wise deals (Kane and Toews) others threaten to be an albatross for many years to come (Seabrook). Hossa's contract is another one that remains to be seen, as his allergy-related retirement could push the Slovak's contract onto the LTIR, giving the Hawks some needed breathing room. This hardly solves matters, as it will still limit them from adding any major players since they'll still be butted up to the Cap limit. The Saad-Panarin deal back in June flipped players with identical dollar amounts but Saad is inked to a longer term. Murphy is a solid defenseman who should only get better with time, especially being surrounded by leaders and talents like Keith, and Seabrook. Finally, the acquisition of Saad will give the front office and fans a litmus test on the Captain. Dogged for "disappearing" in the playoffs and not posting better numbers in the regular season, Saad will be another two-way presence that will ease some of the stress off of Toews' on-ice assignments. An uptick in production should quiet those who believe Toews is regressing with a very expensive contract.
Still to Sign
None
Looking Ahead
Some say the Blackhawks window is closing, but much of the same was said about the Penguins, who are now coming off consecutive Stanley Cup victories. The key for the Hawks will be health as they certainly don't have the flexibility to add much in the way of salary.
Photo courtesy of USA Today Sports Images.