While the expansion draft is set to headline a busy NHL offseason, there are still several other storylines for each team in the months ahead. Here is a closer look at what lies ahead for the Dallas Stars.
The season ended only a month ago but already GM Jim Nill has made two significant changes.  First was the return of Ken Hitchcock behind the bench to replace former head coach Lindy Ruff.  The second was the move to shore up their goaltending situation with the addition of Ben Bishop from the Kings while signing him to a six year, $29.5MM contract.  While those are two big elements already taken care of, there are still a few other avenues that are likely to be addressed this summer.
Move A Goalie
The addition of Bishop gives Dallas three goalies on big ticket contracts for next season.  Clearly, Bishop's spot as the starter is locked in but a decision will need to be made on who to keep (if either) of Kari Lehtonen or Antti Niemi.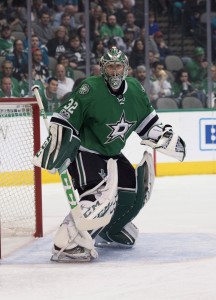 Both netminders have one year left on their current contracts with Lehtonen carrying a cap hit of $5.9MM and Niemi checking in at $4.5MM.  Combined, the duo was the priciest tandem in the league in 2016-17.
It appears that there is going to be a bit of musical chairs when it comes to goaltending this offseason which could potentially present the opportunity for Nill to try to move one of them out in a trade.  However, it would seem likely that they would need to take a goalie in return which doesn't exactly solve the logjam.
As things stand, the expected course of action is that a buyout is forthcoming.  If the team opts to buy out Lehtonen, they will eat a cap hit of $2.57MM this season and $1.67MM next year.  Niemi's cap charge if bought out is more uniform, coming in at $1.5MM for each of the next two seasons.
Rebuild The Back End
While their goals against should drop with the addition of Bishop (while Hitchcock is certainly a defensive-minded coach), the Stars are lacking in top four defensemen.  John Klingberg took a step back last season but is still their biggest threat but there aren't many proven options beyond him.  Dan Hamhuis isn't the top pairing player he once was and while the team has high hopes for Esa Lindell and Julius Honka, among others, they're still developing and aren't ready for a top role just yet.
It's not a great free agent market for defenders but it wouldn't be surprising to see Nill try to be active, particularly when it comes to the second tier.  There aren't many top end options available but there are several players who could slide into a top four role for a year or two while their youngsters continue to develop.  Going the trade route is another option but the Stars will have some money to spend which makes it more likely that they'll skew towards the open market.
Hit In The Draft
Dallas hasn't had a lot of first round success lately.  From 2009-2013 (the last few years are really too early to judge), they've missed on just about every pick.  Radek Faksa – a pending RFA – is turning into a quality player but Scott Glennie, Jack Campbell, Jamie Oleksiak, and Valeri Nichushkin all have failed to come close to meeting their draft day expectations.  The only two left in the organization are Oleksiak and Nichushkin; the former has been in a time share on the back end for the last two years while the latter was in the KHL this season.
The Stars were big winners in the draft lottery as they jumped from eighth overall to third to give them their earliest draft pick in franchise history.  After missing on that many first rounders, Nill and his staff simply cannot suffer the same fate this time around.  If they keep the pick, they should be able to land a core prospect, something they've been lacking for a while now.  However, it was reported yesterday that they've already had some talks about potentially moving the pick in exchange for an established player in the hopes of getting back into contention quickly.
With Anaheim making the conference final, Dallas picks up their first rounder as well.  It's slated to be somewhere between 28-31 but that will give them a shot at adding another decent prospect or a better trade chip.  The Stars haven't had a lot of draft success as of late but they have a strong opportunity to change that next month.
Photo courtesy of USA Today Sports Images.