We're continuing to break down each team's situation as it pertains to the 2017 NHL Expansion Draft; which players are eligible, and which will likely warrant protection or may be on the block. Each team is required to submit their protection lists by 4pm CDT on June 17th. The full rules on eligibility can be found here, and CapFriendly has provided a handy expansion tool to make your own lists.
The Minnesota Wild shouldn't have been underrated this season just a year removed from a 46-28-8 campaign in 2014-15, but there they were projected as a bubble team by many analysts and fans alike. Instead, they burst through the starting gates with tremendous play from their young forward group, and rode an impressive performance from Devan Dubnyk all the way to an 106 point season and the second best record in the Western Conference.
Though they ran head-first into a brick wall named Jake Allen in the first round and were unable to progress deep into the playoffs, their fans should be excited for the immediate future with a good mix of veteran and young talent. When it comes to the expansion draft, any team as deep as Minnesota should be worried, and because of it they've been included in much trade speculation. There are simply too many solid players to protect, meaning they'll face some tough decisions in the next two days.
Eligible Players (Non-UFA)
Forwards:
Zach Parise (NMC), Mikko Koivu (NMC), Jason Pominville (NMC), Eric Staal, Charlie Coyle, Jason Zucker, Chris Stewart, Mikael Granlund, Kurtis Gabriel, Nino Niederreiter, Jordan Schroeder, Erik Haula, Zack Mitchell
Defensemen:
Ryan Suter, Jared Spurgeon, Jonas Brodin, Marco Scandella, Mathew Dumba, Gustav Olofsson, Christian Folin
Goaltenders:
Notable Exemptions
Luke Kunin, Alex Tuch, Joel Eriksson Ek, Justin Kloos, Mike Reilly
Key Decisions
The first decision any team will have to make is which protection scheme to use. Teams can either protect seven forwards, three defensemen and one goaltender (7-3-1) or eight skaters and one goaltender (8-1). The Wild are among the teams that could consider going with the 8-1 method due to their deep defensive core, but that creates an even bigger problem up front where no-movement clauses and center depth put them at risk of losing a very good player.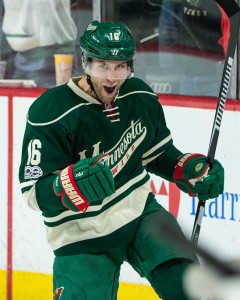 If they do protect seven forwards, they'll have four spots remaining to decide upon after automatically protecting Zach Parise, Mikko Koivu and Jason Pominville. Pominville especially was expected to be asked to waive his clause, but the team won't reveal anything until the lists are made official. Since we can't assume that he would waive the clause even if asked, those last four spots become paramount.
Nino Niederreiter and Mikael Granlund are locks to be protected after breakout seasons for the pair, but after that it gets a little murky. Eric Staal had an excellent bounce-back season in Minnesota with 65 points, while Charlie Coyle and Jason Zucker both set career highs with 56 and 47 points respectively. All three are integral parts of the offense that would be tough to watch walk out the door for nothing.
On defense, Ryan Suter would have been protected even without his no-movement clause, and Jared Spurgeon will no doubt take a place beside him. Beyond that, the team has to make a decision between Jonas Brodin, Mathew Dumba, Marco Scandella and Christian Folin. While Brodin may seem like the easy choice to some, it's almost certain that Minnesota has been talking to Vegas about who they would select if given the chance.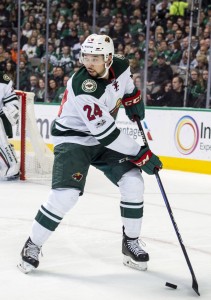 With the earlier trade of Jonathan Drouin to Montreal, rumblings started that Minnesota would be next to move a big name in order to solve an expansion draft issue. Bob McKenzie of TSN tweeted that there has been a lot of talk about Brodin, and speculated that Montreal may be in on the action given they now have a need for young defenders. The tough part about the deal would be that any player coming back would need to be exempt, or else Minnesota risks exposing another one of their good forwards or defenders.
In net, Dubnyk represents the easiest choice for the Wild after his incredible season, even if he did slow down near the end and into the playoffs. Alex Stalock poses no threat to his protection, and Darcy Kuemper is a free agent this summer.
Speaking of free agents, Vegas does get the opportunity to speak with any pending free agents during their exclusive negotiating window, and Martin Hanzal could appeal to them. The big center was acquired by the Wild mid-season for a first-round pick, and Vegas could see him as an asset too hard to pass up should he be willing to sign a reasonable deal. Though Hanzal wouldn't give them much value in terms of Stanley Cup competitiveness, he could be used as a trade asset just the same way Arizona flipped him this season.
Projected Protection List
F Zach Parise (NMC)
F Mikko Koivu (NMC)
F Jason Pominville (NMC)
F Eric Staal
F Charlie Coyle
F Mikael Granlund
F Nino Niederreiter
D Ryan Suter (NMC)
D Jared Spurgeon
D Jonas Brodin
If this does end up being the protection list for the Wild, there is a ton of talent available for the Vegas Golden Knights to sink their teeth into. Zucker or Dumba would both be some of the best players on their new squad, and are both young enough to contribute long-term for the expansion club. The mere fact that so much talent is still on the board points to a possible trade in the works in the next 48 hours.
The Wild may have something worked out with Vegas, another team or both, but it will be hard to stop the Golden Knights entirely from taking a good player. That said, keep your eyes peeled for Minnesota moves over the next two days as they're sure to be involved in every conversation.
Photos courtesy of USA Today Sports Images