We're continuing to break down each team's situation as it pertains to the 2017 NHL Expansion Draft; which players are eligible, and which will likely warrant protection or may be on the block. Each team is required to submit their protection lists by 4pm CDT on June 17th. The full rules on eligibility can be found here, and CapFriendly has provided a handy expansion tool to make your own lists.
The Ottawa Senators came into this season with a new coach, a new second line center and a dream that getting back to the Conference finals for just the third time in their history might be a possibility. All season people wrote them off as a weak team piggy-backing on the dominant play of their captain and best player, Erik Karlsson. With some extra help from an outstanding goaltending duo, the team shattered expectations and came within one game of the Stanley Cup Final, a successful year to be sure.
Ottawa is now looking to reload for another playoff run next season, with youngster Colin White and blue-chip prospect Thomas Chabot in tow. Their future looks quite bright, even if they did trade away some assets in questionable trade deadline deals. Just like any Cup contender, Ottawa isn't in the best shape when it comes to the expansion draft and were dealt a further blow when Dion Phaneuf decided to not waive his no-movement clause. As protection lists are due tomorrow evening, the Senators have to make up their mind fast (if they haven't already) and make some tough decisions.
Eligible Players (Non-UFA)
Forwards: 
Bobby Ryan, Mike Hoffman, Derick Brassard, Clarke MacArthur, Mark Stone, Kyle Turris, Zack Smith, Alexandre Burrows, Mike Blunden, Jean-Gabriel Pageau, Ryan Dzingel
Defensemen:
Dion Phaneuf (NMC), Erik Karlsson, Marc Methot, Cody Ceci, Mark Borowiecki, Chris Wideman, Fredrik Claesson, Patrick Sieloff
Goaltenders:
Craig Anderson, Andrew Hammond, Chris Driedger
Notable Exemptions
Colin White, Logan Brown, Chris Didomenico, Thomas Chabot, Ben Harpur
Key Decisions
The first decision any team must make is whether to protect seven forwards, three defensemen and one goalie (7-3-1) or eight skaters and one goalie (8-1). The Senators are no different, as they have several interesting defensemen that project to go unprotected should they use the former, but will likely go with the latter due to their distinct lack of forward depth.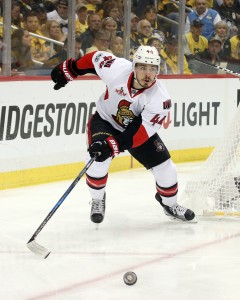 Up front the Senators can't afford to lose a player like Jean-Gabriel Pageau for nothing, as they learned this year when several key forwards went down to injury at the same time. Even though they play a defensive, trapping scheme, their secondary scoring depth isn't good enough to sustain losses and with Pageau coming off an outstanding playoff run he's a lock to be protected in a 7-3-1 format.
Mike Hoffman, Derick Brassard, Mark Stone and Kyle Turris are the others who should feel comfortable, and even with his extremely inflated salary, Bobby Ryan may have played his way back into the team's good books with a strong playoff run. So, decisions at forward generally come down to Clarke MacArthur, Zack Smith and Ryan Dzingel of which the team can only protect one. MacArthur is an emotional leader of the team after returning from concussion problems late in the year, but Smith and Dzingel offer more for the relatively low price tags.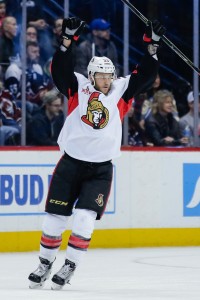 On defense is where it gets really tight for the Senators, as Phaneuf's NMC and Karlsson's no-brainer leave them with just one spot to protect Marc Methot, Cody Ceci, Mark Borowiecki, Chris Wideman and Fredrik Claesson. That's a lot of names to decide between, and all of them deserve protection to some degree. Ceci, for all the hate he gets at times logged the second-most minutes on the team and combined with Phaneuf on a relatively solid second pair, while Methot was the yin to Karlsson's yang all season.
Neither of those two hold a candle possession-wise to Wideman, while Borowiecki was the clear physical leader of the team, even leading the NHL in hits. Claesson is the real wildcard in the group, as even though he's suited up for just 49 NHL games he showed he could handle himself in the playoffs and perhaps move up alongside Karlsson at some point in the future. At just 24 he would be another interesting option for the Golden Knights.
In net Anderson will get the call, unless the team comes to a long-term extension with Condon before the deadline. The only reason to do that would be if they think Vegas could swoop in and sign him out from under them, though that would also cause them to forfeit their selection. In terms of other free agent options there isn't much to see on Ottawa.
Projected Protection List
F Bobby Ryan
F Mike Hoffman
F Derick Brassard
F Mark Stone
F Kyle Turris
F Zack Smith
F Jean-Gabriel Pageau
D Dion Phaneuf (NMC)
D Erik Karlsson
D Cody Ceci
In the end, Ceci offers too much due to his age and cheap contract to let walk for nothing. At just 23, and signed for only $2.8MM this season he still exists as an excellent asset, if not a perfect fit for the Senators system. He could easily used in a trade, or improve next season and beyond as he heads into his prime. Leaving the other defensemen unprotected though isn't a move GM Pierre Dorion wants though, which is likely why Phaneuf's name has been floating around in trade speculation for the last couple of days.
Ultimately the Senators could probably stand to trade two of their defensemen before the draft just to avoid losing them for nothing, but it's more likely that they'll just bite the bullet and lose a player of value. There is also the possibility of making a side-deal with Vegas in order to take someone else, but there has been no indication so far that Dorion has been pursuing that idea.
Photo courtesy of USA Today Sports Images