The Philadelphia Flyers are signing veteran defenseman Marc Staal to a one-year, $1.1MM contract, the team announced.
The signing reunites Staal, 36, with his former coach John Tortorella, who coached Staal during the entirety of Tortorella's tenure coaching the New York Rangers. Now, he'll join a rebuilding Flyers club to likely be one of Tortorella's most trusted veteran leaders.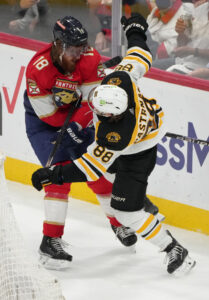 Flyers GM Daniel Briere told the media, including The Athletic's Charlie O'Connor, that his team would "like to add a little bit more of a veteran presence " while also keeping spots open for some of the organization's younger players to make their mark. (subscription link)
Staal joins a left side of Philadelphia's defense that already includes Travis Sanheim and Cam York, two players likely to play major roles for the club moving forward.
As a result, Staal is likely to compete for third-pairing minutes with fellow veteran Nick Seeler, as well as younger names such as Yegor Zamula, Emil Andrae, and Adam Ginning.
Now well past his prime years, Staal clearly isn't the player he once was. The longtime Ranger was a steady presence in New York's top four for over a decade, and he even made it to an All-Star Game earlier in his career. Now the most valuable things Staal brings to the table are his 1,101 games of experience and the guidance he can offer to the Flyers' younger players.
Staal has extensive playoff experience as well, most recently in the Florida Panthers' run to the Stanley Cup Final. He played in all 82 games for Florida last year and averaged over 18 minutes of ice time per night, with over two-and-a-half minutes per night spent killing penalties.
Staal's role as a defensive specialist on the Eastern Conference Champions has earned him a nice pay raise from the $750k he earned last season. Now he'll shift from playing in high-leverage defensive moments for a Stanley Cup contender to more of a mentorship role with a rebuilding club, where his off-ice contributions will be just as important as what he brings on the ice.
Photos courtesy of USA Today Sports Images