With the trade deadline now just a week away, we continue to take a closer look at each team. Where do they stand, what do they need to do, and what assets do they have to fill those needs?
After slipping into the playoffs last year with less than 90 points and the final wildcard position, only to get punched in the mouth by the Dallas Stars and go home early, the Minnesota Wild needed a change. They'd fired their coach halfway through the season, and were relying on an aging (but excellent) core of Mikko Koivu, Zach Parise and Ryan Suter too much to succeed.
Enter Bruce Boudreau and the kids. After good solid seasons from the young guns a year ago, many of them have exploded to the forefront of the team this season, with Mikael Granlund, Nino Niederreiter, Charlie Coyle, and Jason Zucker all already setting career-highs in points through 59 games. They're leading the Western Conference by five points and look poised for a deep playoff run.
Record
39-14-6, 1st in Central Division
Deadline Status
Buyer
Deadline Cap Space
$5.20MM – full-season cap hit, 47/50 contracts per CapFriendly.
Draft Picks
2017: MIN 1st, MIN 3rd, MIN 4th, MIN 5th, MIN 6th, MIN 7th
2018: MIN 1st, MIN 2nd, MIN 3rd, MIN 4th, MIN 5th, MIN 6th, MIN 7th
Trade Chips
Minnesota will almost surely avoid trading anything off the roster that has put them in prime position for a Stanley Cup run, meaning they'll have to use draft picks and prospects as bait if they want to add anything next week. It's a shame they don't have their second-round pick from this season—which they traded to Buffalo for Chris Stewart back in 2015—since they are used so often in rental deals.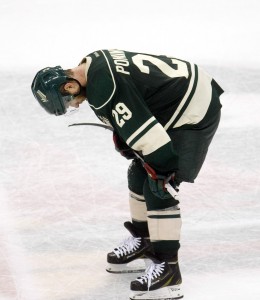 The Wild do however have a fairly stocked cupboard of prospects that could be waived in front of a team looking to get younger. Their drafting the last decade (or longer) though not perfect in the first round has unearthed plenty of talent in later selections. They've picked players like Cal Clutterbuck (3rd), Justin Falk (4th), Marco Scandella (2nd), Erik Haula (7th), Darcy Kuemper (6th), Zucker (2nd) and Johan Larsson (2nd) all outside of the first round and found excellent value in each.
If a team really wants to go after youth, they could ask for prospects like Jordan Greenway, who showed off his skills at the most recent World Juniors. Kirill Kaprisov is tearing up the KHL as a 19-year old, and it was recently reported that he'll play for CSKA next season. Alex Tuch is showing his ability at the AHL level after a dominating NCAA career, and Luke Kunin continues to captain the University of Wisconsin up the college hockey rankings. It would be crazy to trade any of these names for a rental, but if the Wild want to enter the ring of possible long-term upgrades, they have the pieces to do it.
One Player To Watch: F Jason Pominville, who has a big cap-hit and is playing much less due to the emergence of the young guns is a contract that the Wild may look to move out if they're to make any improvements.
Team Needs
1) Wing Depth – The Wild would like to move Coyle back to center ice if possible, but they'd need a winger who can jump into their top-six to do it. Jannik Hansen has been rumored to be on their radar, but a player like Patrick Eaves seems a better fit. It's not guaranteed that they'll do anything, though GM Chuck Fletcher has said that they have some "unproven depth" at forward.
2) Center – The nice thing about having Coyle is that if you can't find the upgrade at the wing you could always acquire a center instead and leave him out there. Arizona's Martin Hanzal was quoted today by Chris Hine of the Chicago Tribune as saying he wants to stay in the middle even if traded, which would still be possible for the Wild.