With the NHL season now just a few weeks away, it's time to look at what each team has done this summer and what to watch for in the year to come.  Today, we focus on the New York Islanders.
Last Season: 41-29-12 record (94 points), fifth in Metropolitan Division (missed playoffs)
Remaining Cap Space: $2.98MM per CapFriendly
Key Newcomers: F Jordan Eberle (trade, Edmonton)
Key Departures: F Ryan Strome (trade, Edmonton), D Travis Hamonic (trade, Calgary), F Mikhail Grabovski (trade, Vegas), G Jean-Francois Berube (expansion, Vegas)
[Related: New York Depth Chart From Roster Resource]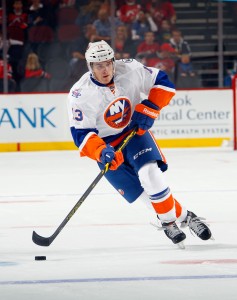 Player To Watch: F Mathew Barzal – Even though it may have seemed like it over the last few years, it's not every day that a 20-year old player can walk into the NHL and completely change his team's offensive profile. That's the kind of impact that Barzal could have on the Islanders though, as he has legitimate superstar upside and could give the team a real weapon outside of the top line. While John Tavares and Eberle could be a dangerous duo this year, and the other good-but-not great forwards like Andrew Ladd, Josh Bailey and Brock Nelson could still have some upside, it's really Barzal who could make them special.
There is no guarantee he even cracks the club to start the year. Often, 20-year olds are required to spend time in the minor leagues to develop their game. But after giving him a taste of the NHL at the beginning of the season, and watching him dominate the Western Hockey League with the Seattle Thunderbirds—to the tune of 104 points in 57 games—it's clear that Barzal could handle himself right away.
There would surely be growing pains five-on-five, where Barzal could get beat by bigger, stronger players than he's used to facing. But with the man advantage (something that looks like it might happen a lot more this year) he could be a game-changer right away. Barzal tallied 39 of his 87 assists on the powerplay last year for Seattle, showing off his patented puck skills while patiently waiting for a lane to open up. He may already be one of the best players in the world at getting pucks through stick traffic, using a feathery touch on his saucer passes.
Even though the Islanders' season was considered a disappointment, they still recorded 94 points and actually had more wins than the eighth-seeded Toronto Maple Leafs. They ranked 28th in the league in powerplay efficiency last year, scoring on just under 15% of their chances. Improving that number could get them a few more wins, and a seat at the table in the Stanley Cup Playoffs.
Key Storyline: Even though Barzal and fellow youngster Joshua Ho-Sang are creating some excitement around the team, the most ink (or pixels) will undoubtedly be spilled on the impending free agency of Tavares. We've heard about it all summer, how the Islanders' captain wants to see where the team stands in terms of its building, finances and success before making a long-term decision. There doesn't seem like there will be any moment of respite from the speculation all season.
Taveras is an NHL superstar through and through, and would easily be the top name in free agency next summer. Should he get that far, he may even rival Connor McDavid as the league's top paid player, after what would likely be a heated bidding war for his services. Today, as it happens, marks his 27th birthday and already he's scored 537 points in his NHL career. That ranks ninth in the entire league since that time, trailing at least five future hall of fame players, and several others who would be in consideration. Unlike some of those, who rely on their offensive game to drive their value, Tavares also comes as a bonafide number one center, capable of matching up against anyone at even strength.
It's overwhelmingly clear that the Islanders will pay anything to retain his services, but it's not just about his contract. The team will need to have an identity in New York somewhere, and their best hope lies in the Belmont Park location. Proposals will be seen in the near future, but it could take several months before a decision is made. In the meantime, Islanders fans should just enjoy their captain in his prime, each and every night.