With the trade deadline now less than two weeks away, we continue to take a closer look at each team. Where do they stand, what do they need to do, and what assets do they have to fill those needs?
After four years of taking the division crown with Bruce Boudreau behind the bench, the Anaheim Ducks have a familiar face in Randy Carlyle taking them to the promised land this season. The team is firmly in a playoff spot, though could easily finish third in the division behind San Jose and Edmonton, and will have to take on Hart candidates Connor McDavid or Brent Burns in the first round.
It will be tough sledding down the stretch for the Ducks, who recently lost Antoine Vermette for 10 games (unless reduced by the appeal). They appear to be buyers at the deadline, though with the amount of highly sought after assets in their system, it may not be draft picks that they're using as currency.
Record
31-19-10, 3rd in Pacific Division
Deadline Status
Buyer
Deadline Cap Space
$2.86MM – full-season cap hit due to LTIR space, 46/50 contracts per CapFriendly.
Draft Picks
2017: ANA 1st, ANA 2nd, ANA 3rd, ANA 4th, ANA 5th
2018: ANA 1st, ANA 2nd, ANA 3rd, ANA 4th, ANA 5th, ANA 6th
Trade Chips
The Anaheim Ducks have an oft-mentioned group of defensemen that almost the whole league is interested in. While Hampus Lindholm seems untouchable, the other six—Cam Fowler, Sami Vatanen, Josh Manson, Brandon Montour, Shea Theodore and Jacob Larsson—have all been rumored to be available at (vastly) different prices. The Ducks will face an expansion draft problem if they don't move a defenseman (or two), but that doesn't necessarily mean it will happen at the deadline.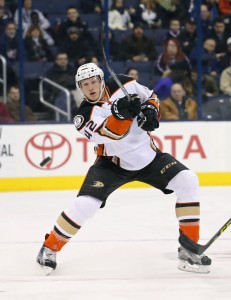 If they choose to move any of them, they could potentially make the biggest splash on March 1st. Young defense is one of the most sought after commodities in the NHL, and with both rebuilding and contending teams looking for help on the back-end they would have no shortage of suitors.
Other than their blueline depth, the team does have some excellent prospects that they could use in the pursuit of a big fish (if one surfaces). Sam Steel and Max Jones were both picked in the late stages of the first round last summer, and though they're having very different seasons—Steel is dominating once again with 103 points in 51 games, while Jones has battled injury and suspension, only playing in 29 games thus far—they both still hold excellent value.
There is also the case of Jonathan Bernier, who the Ducks would love to move now that they have Jhonas Enroth playing so well in San Diego. Bernier comes with a hefty cap hit, and moving him would help them make any additional moves. Since he is an unrestricted free agent this summer, perhaps a rebuilding team would be willing to take him on for the rest of the season in a salary-heavy swap.
Five Players To Watch: D Josh Manson, D Cam Fowler, G Jonathan Bernier, LW Ryan Garbutt, D Shea Theodore
Team Needs
1) Top Six Winger – The Ducks are committed long-term to their big three up front of Ryan Getzlaf, Corey Perry and Ryan Kesler, and Rickard Rakell and Jakob Silfverberg have fit in well on the wings this season. But as they head into the playoffs, they could use another legitimate scoring winger to help take the load off those five players. Nick Ritchie and Andrew Cogliano are fine players, but would look better slotted in a little lower in the lineup.
2) Depth Center – Anaheim is going to feel the loss of Vermette most in the faceoff circle, where he has won more than 60% of his almost 1000 draws this season. He is a huge part of their defensive zone coverage, getting the majority of the draws in his own end and on the penalty kill. They've moved Rakell back to his natural center ice position for the time being, but that has only created another problem in the top six. Depth centers don't cost a ton, but Anaheim would be smart to go out and get one that could move up to the third line in the case of an injury in the playoffs—and no, Nate Thompson isn't that guy.
Photo courtesy of USA Today Sports Images