The Buffalo Sabres have traded Marcus Johansson to the Minnesota Wild in exchange for Eric Staal. No salary will be retained by either team. Though both players hold partial no-trade clauses, Michael Russo of The Athletic reports that neither one had their new team blocked.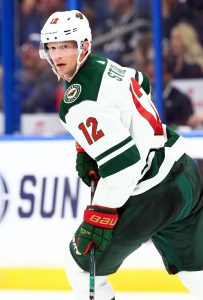 This deal represents a swap of two players scheduled for free agency in 2021, though Johansson is nearly six years younger than Staal. The former Buffalo forward heads to Minnesota after experiencing arguably the worst offensive season of his career, scoring just nine goals and 30 points in 60 games. Johansson never really found his footing in Buffalo and couldn't manage the move back to center ice, a position he hadn't routinely played since his second season in the NHL. If he stays in Minnesota, it will be interesting to see where he fits into the lineup since the Wild have made it clear they are looking for an upgrade down the middle. They recently acquired Nick Bjugstad who can also play center, though he wasn't used there full-time in Pittsburgh.
For Staal, this trade apparently took him by surprise. Russo tweets that the veteran forward is "stunned" though he'll have some familiar faces in Buffalo to greet him. Kevyn Adams, who will mark his first trade as Sabres GM with this deal, was a teammate of Staal's with the Carolina Hurricanes, winning a Stanley Cup together in 2006. Perhaps more notably though is the connection with Sabres forward Jeff Skinner, who played several years with Staal in Carolina and is coming off a dreadful 23-point season after signing a huge $72MM extension.
There's no doubt that Staal represents an upgrade down the middle for the Sabres, as even at the age of 35 he was still effective this season. In 66 regular season games with Minnesota, he recorded 47 points, a total that would have put him third on the Sabres behind only Jack Eichel and Sam Reinhart. The fact that he comes at a discount—Staal is owed just $3MM and carries a cap hit of $3.25MM for next season, compared to $4MM and $4.5MM for Johansson—makes this seem like an easy win for the Sabres, as long as his play doesn't drop off a cliff next year.
Still, there is a chance that Johansson can find his "MoJo" in Minnesota. Remember that this is a player who scored 24 goals and 58 points as recently as 2016-17 and will only turn 30 next month. He also played quite well for the Boston Bruins in last year's playoffs, scoring 11 points in 22 games as a depth option. That postseason performance is exactly what earned him the two-year $9MM deal with the Sabres last summer.
For the Wild, the acquisitions of Johansson and Bjugstad over the last few days have added a pair of players on expiring deals that will both be looking to rebuild their value before free agency. Either one could be potential trade chips at the deadline should the 2020-21 season go sideways, or potential extension candidates if they can get back on track. For Buffalo on the other hand, Staal's acquisition is much more about starting to turn the team in the right direction and providing some backup for Eichel upfront. Saving $1MM in salary may also be important for a team that has been rumored to be looking at an internal budget this season due to reduced revenues.
Darren Dreger of TSN was first to break that Johansson had been traded from Buffalo, while Elliotte Friedman of Sportsnet reported it is a one-for-one deal. 
Photo courtesy of USA Today Sports Images