After leaving last night's game, Casey Cizikas will be out for approximately four weeks according to Arthur Staple of Newsday.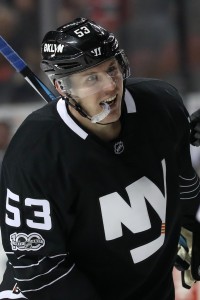 The Islanders made an emergency recall of Bracken Kearns today to fill in, but was thought of as the fill-in for Cal Clutterbuck who also left with an injury. We'll wait and see what the lineup looks like tomorrow against the Montreal Canadiens.
With Cizikas out, the Islanders have lost even more depth at a position they severely lack. Center ice has been a problem for them all season with Mikhail Grabovski fighting concussion symptoms and Ryan Strome not being able to make the transition at the NHL level. Cizikas has played up and down the lineup for the team and takes the second most draws behind only John Tavares. His absence will not only leave a defensive hole, but also a physical one. He and Clutterbuck have formed one of the most punishing combinations in the league in recent years—along with Matt Martin who signed with Toronto this summer—and have worn out defenders with a persistent forecheck.
For the Islanders, who are actually tied for a playoff spot currently, it is a big blow to an already depleted forward group. Since watching Frans Nielsen and Kyle Okposo leave in free agency, the team has had a difficult time finding forwards that can provide consistency for them. Cizikas even has more points than the big offseason fish Andrew Ladd, though that is turning around recently. This may force the team to pursue an upgrade at the trade deadline, even if it does come in the form of a rental from one of the bottom-dwellers of the Western Conference.