Since Zdeno Chara left to sign with the Washington Capitals, the Boston Bruins have been without a captain. It was clear who would be next, but today it has become official. Patrice Bergeron has been named the 20th captain in team history.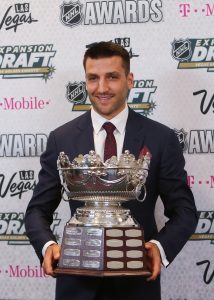 The 35-year-old center has spent his entire career in Boston, debuting in 2003 just a few months after being selected 45th overall. At just 18 he scored 16 goals and 39 points, quickly showing that there was greatness in him. Though the next season would be spent in the minor leagues thanks to an NHL lockout, Bergeron would never really look back, hitting the 30-goal and 70-point mark in his second season with Boston. In all, he's totaled 1,089 games and 869 points, while tying the NHL record with four Selke Trophy wins as the league's best defensive forward.
In 2011 he took home the ultimate prize, winning the Stanley Cup after scoring 20 points in 23 games. His overall playoff performance has always been outstanding, with 111 points in 149 career postseason games.
It's more than just his on-ice performance though. Bruins president Cam Neely touched on the other qualities that make Bergeron a perfect choice for captain:
It's a privilege to name Patrice the 20th Captain of the Boston Bruins. For 16 seasons we have all watched Patrice grow not only into an elite player but also a tremendous leader. Patrice represents the Bruins organization and our fans with integrity, determination and class. On and off the ice he embodies what it means to be a Bruin, and we couldn't be prouder that he will lead our team as Captain.
Though Bergeron takes his rightful place among the greatest Bruins of all-time, there could potentially be another captain change not too far down the line. He'll turn 36 in July and is only under contract through the 2021-22 season. While there is obviously plenty of game left in his boots, you never know when he'll hang them up. Bruins fans should cherish this time with Bergeron donning the "C" before the sweater heads to the Hall of Fame.
Photo courtesy of USA Today Sports Images