The Chicago Blackhawks are trying to sell off some of their expiring assets, making names like Chris Kunitz and Marcus Kruger available. But if they expect to effect real change on the roster moving forward they may have to move some of their more popular players. While it still seems like Brent Seabrook's contract would prevent him from going anywhere, it's a different story for Duncan Keith. Even at 35 and with four year remaining on his deal, there would likely be interest in the defenseman. To that end, the Blackhawks will go to Keith at the deadline and ask him what he what he wants to do according to Pierre LeBrun on last night's Insider Trading for TSN.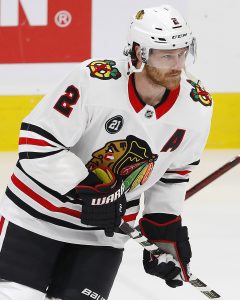 Keith's contract includes a full no-movement clause, but even more than that his status as a historic player for the Chicago organization will afford him the ability to decide his future. If he wants to stay with the Blackhawks through the end of his career that is his prerogative, but the team will see if he would rather go compete for another Stanley Cup instead.
That kind of reverence is expected when dealing with a player of Keith's stature. The veteran was named one of the 100 Greatest NHL Players when the league released a ranking a few years ago, and certainly holds that honor with the Blackhawks organization as well. A two-time Norris Trophy winner as the league's best defenseman, Keith also took home a Conn Smythe in 2015 when he led Chicago to a third Stanley Cup. In 126 playoff games with the Blackhawks he has averaged more than 28 minutes a night of rock solid defensive work, and earned Norris votes in ten consecutive seasons prior to last year.
Still, with the amount left on his contract there is risk involved in a Keith trade. Not only could the acquiring team be stuck with a declining asset for several more years, but the Blackhawks could very well have to sell him for an extremely underwhelming return. In this case the decision is up to him, but it might be a sad day in Chicago if one of the greatest players in team history is given away for a few draft picks or prospects.
Photo courtesy of USA Today Sports Images