This article was originally published in July of 2016, but seems extremely relevant a year later. Most of the players discussed inside underachieved in their first season, and again we saw signing bonuses handed out like candy this summer. Included at the bottom is an update with new contracts from this offseason.
The life of an NHL agent is tough. As the league continues to tweak (or totally overhaul) their CBA each few seasons, changing contract regulations and offering teams different ways of structuring deals, agents are always trying to find ways to circumvent them and get the best offers for their clients.
With teams becoming more and more willing to use buyouts to rid themselves of the horrible contracts that they sign on July 1st – famously a day of simultaneous excitement and regret – agents around the league needed to find a way to protect their clients from losing out on a third (or sometimes two-thirds) of the salary the sides agreed on.
The most recent buyout window, which lasted from June 15th to 30th, saw a dozen NHL players bought out, including household names like Thomas Vanek and Dennis Seidenberg. While some fans may see this as an opportunity for a player to earn two contracts at the same time – Vanek was signed on by Detroit for $2.6MM on July 1st, more than the $1.5MM he surrendered in his buyout – most take it as a personal slight, an indictment of their play or character. Regardless, agents continue to try and secure guarantees for their clients, instead of leaving the power in the hands of the league's general managers.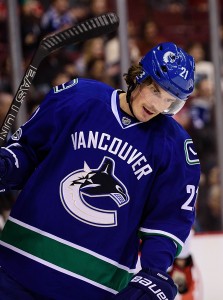 Enter the signing bonus, this summer's contract-du-jour. All across the league, big name free agents have inked deals that will see them paid almost entirely in signing bonuses, with very little actual salary being given out each season.  Take Loui Eriksson for instance:
2016-17 – Salary: $1MM, Bonus: $7MM
2017-18 – Salary: $1MM, Bonus: $7MM
2018-19 – Salary: $1MM, Bonus: $6MM
2019-20 – Salary: $1MM, Bonus: $4MM
2020-21 – Salary: $1MM, Bonus: $3MM
2021-22 – Salary: $3MM, Bonus: $1MM
While Eriksson's cap-hit sits at $6MM per year, he'll make more than that in bonuses alone each of the next three seasons. There are a couple of reasons why this would benefit the player.
For one, everyone loves getting a big check rather than a weekly salary – who would turn down a piece of paper with six zeros?  As any economist will tell you, money in hand is worth more than money promised to come, and just as teams in other sports are deferring payments for this reason long into the future, having money up front is actually more valuable for the player in question.
It's in the buyout rules that the contract really holds value though, as – hinted at by the title – these contracts are basically buyout-proof.  Under the current CBA, buyouts are calculated by taking two-thirds of the remaining salary owed, not including signing bonuses, and spreading it out over twice the remaining contract length. The new cap hit is determined by subtracting the savings from the average annual value of the deal which includes signing bonuses.
This means that if the Canucks were to want to buy out Eriksson after say, the third year of his new deal, they'll only be saving $333K of cap hit in 2020-21, an insignificant portion of the $6MM number. That last season of $3MM is a bit better for the Canucks (they would save $2MM of his cap hit), but structuring it this way almost guarantees that Eriksson will collect at least $35MM of his deal – more than 97%. It's just not worth it to buy him out any sooner than his final year.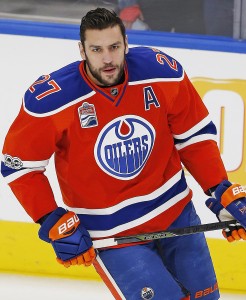 Andrew Ladd, Milan Lucic, Kyle Okposo all signed deals heavily impacted by signing bonuses, protecting them against a buyout through all but the very end of their agreements.  Even Matt Martin, a career fourth liner secured a $10MM deal that is 65% bonus.  He'll only be collecting $750K in salary in years three and four of the deal.
While this doesn't necessarily mean trouble for clubs around the league, you can bet the owners and NHLPA will take a look at it when negotiations begin on the new CBA.  The current agreement expires in 2022, though the two sides have the option to end it a year earlier.
Just as the league has used cap recapture and contract limits to close loopholes in the past, be sure that if they want to continue to have the option to buyout bad contracts they'll remove this option from the equation.  Creating a rule that would make signing bonuses only be able to hit a certain percentage of each season's salary would be the easy fix, but expect push-back from the NHLPA.
Even if they do end up closing it, agents will work on another way to get their clients the best possible guarantee; they always seem to be one step ahead of the league.
This summer, signing bonuses have taken off even further. Carey Price's eight-year extension with the Montreal Canadiens is over 80% signing bonuses, with the goaltender making a maximum of $2MM in salary per year. A $10.5MM cap hit through age-38 will be impossible to buy out, offering almost no cap savings. The Blackhawks face a similar situation with Brent Seabrook, whose 2015 contract is looking worse and worse, and provides little incentive for a buyout.
Interestingly, the Nashville Predators have continued in their practice of avoiding signing bonuses altogether. After signing Filip Forsberg to a bonus-free deal last summer, both Ryan Johansen and Viktor Arvidsson have taken similar structures in their long-term extensions this year. GM David Poile has taken much of the risk off the table even as he allocated many of his resources to his trio of young forwards. Though they pose little risk of age-decline, all three carry large enough cap hits to really hurt the Predators if they were to take a step backwards in their development. It's hard to see any deserving a buyout, but the option is still there.
Alexander Radulov may be the biggest example among 2017 unrestricted free agents, as his contract with the Dallas Stars is both front-loaded and filled with signing bonuses. Radulov will earn just $13.25MM in salary over the next five seasons, making it difficult to buy out even as he enters his mid-thirties. For a player who has a relatively short track record of success in the NHL, it may quickly turn into a problem if he starts to feel the draw of father time.