The NHL saw a number of high-priced extensions this summer, with players like Nathan MacKinnon, J.T. Miller, and Jonathan Huberdeau, all signing long-term deals since the beginning of August to keep them away from unrestricted free agency. As the names started ticking off the list, the focus narrowed to a handful of names that still don't have deals for 2023-24.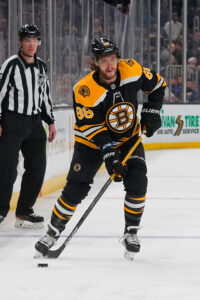 Chief among them is David Pastrnak, the Boston Bruins superstar that could hit the open market at the age of 27 in a little over eight months from now. Pastrnak is one of the most consistent offensive players in the league, with at least 34 goals in each of the last five full-length seasons (and 20 in the shortened 2020-21 campaign).
Coming off a 77-point season, he started things off on the right foot last night by posting four points against the Washington Capitals to take the early NHL lead. Friend and teammate David Krejci told Fluto Shinzawa of The Athletic after the game, that Pastrnak "has no ceiling" and "just keeps getting better."
With that in mind, the extension negotiations between Pastrnak and the Bruins could lead to quite a contract. Pierre LeBrun of The Athletic tweets that talks continue between the two sides, and notes that the star forward is a "Panarin-level player on the open market."
That, of course, is referring to New York Rangers forward Artemi Panarin, who secured one of the biggest contracts in the league when he reached the open market in 2019. The Rangers handed Panarin a seven-year, $81.5MM deal that carries a cap hit of $11.64MM, making him the highest-paid winger in the league and second only to Connor McDavid in terms of overall cap. Both have since been eclipsed by MacKinnon's whopping eight-year, $100.8MM deal.
"I don't play hockey for money, man," said Pastrnak in 2019 when discussing his last deal, a contract that put him at a very team-friendly $6.67MM cap hit for six years. It has become one of the most valuable deals in the league, with the Czech winger far outpacing his salary in terms of on-ice production.
Now, as the next contract approaches, it will be interesting to see if Pastrnak again gives Boston a discount. LeBrun notably said that he would be Panarin-level on the open market, but suggested that re-signing with the Bruins is a different story. Currently, Boston's highest-paid player is Charlie McAvoy, who signed an eight-year, $76MM extension almost exactly a year ago.
Photo courtesy of USA Today Sports Images