The San Jose Sharks will be without their $11.5MM man for the next few months, as Erik Karlsson underwent surgery yesterday to repair a small muscle tear in his left forearm. The team explained that though recovery time can vary in injuries like this, Karlsson is expected to be re-evaluated partway through March.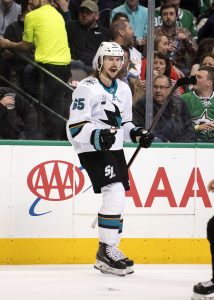 It's a brutal blow for Karlsson particularly, given his bounce-back season so far. The 31-year-old had already passed his 2020-21 points total by registering 26 in 33 games this season, good enough for 15th among all NHL defensemen (even higher when looking at points-per-game). His possession numbers had rebounded, solid reports were coming out about his defensive play, and even though he's still overpaid as the fourth-highest cap hit in the league, his contract didn't seem as devastating.
Now, with an absence of at least two months, he'll have to once again rededicate himself to a recovering from injury instead of helping the Sharks.
Karlsson's career thus far has been a wild ride, with some suggesting that for a time he was the best hockey player in the world. It certainly seemed that way when he carried the Senators to within a goal of reaching the Stanley Cup Final in 2017, averaging more than 28 minutes a night. A two-time Norris Trophy winner, and four-time Hart Trophy nominee, injuries have negatively affected what is still likely to be a Hall of Fame career. Karlsson already ranks 31st all-time in points by a defenseman, and he's racked up those 651 in just 821 regular season games. Among defensemen who have played at least 500 games, his 0.79 points-per-game rate is 12th all-time.
Unfortunately for the Sharks, he just can't seem to stay healthy. Karlsson still has five years left on the massive, eight-year, $92MM contract he signed in 2019 and will carry an $11.5MM cap hit through 2026-27. Hopefully, this most recent injury will not have any lasting effects and he can get back to playing good hockey for the team later this season.
Photo courtesy of USA Today Sports Images