The playing career of Brent Seabrook is over, despite three years remaining on his contract. The veteran defenseman has been on long-term injured reserve for two seasons now and is not expected to ever play in the NHL again. That doesn't mean he won't be around the rink though, as Seabrook has accepted a position with the Vancouver Giants of the WHL as a volunteer/interim assistant coach. He'll be behind the bench for the team helping while Michael Dyck is serving as an assistant with Canada's World Junior team.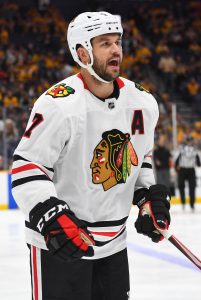 Seabrook, 36, is certainly experienced enough to help out a junior coaching staff, given his 1,114 regular season games in the NHL. A three-time Stanley Cup champion, he also suited up 123 times for the Chicago Blackhawks in the playoffs. A core piece of those championship clubs, Seabrook was a perfect complement to the smooth-skating Duncan Keith, adding some real power and physicality to the lineup every night. Even when they weren't playing together, Keith calmly patrolled on one pairing while Seabrook punished attackers on another.
He recorded more than 2,000 blocked shots throughout his career, along with more than 2,100 hits, things that eventually took their toll on his body. After multiple surgeries that helped his quality of life, he won't be back on the ice in the NHL. His deal, which extends through the 2023-24 season, was actually traded to the Tampa Bay Lightning in July as part of the deal that brought Tyler Johnson to Chicago.
While Seabrook didn't play for the Giants in junior, he's from Richmond, a suburb of Vancouver. Giving a little back to your hometown club while Dyck, as Seabrook puts it, "goes for gold" makes sense for such a respected veteran. Perhaps this will even be the start of a second career for the Blackhawks legend.
Photo courtesy of USA Today Sports Images