Valeri Nichushkin's time with Dallas has certainly been a bumpy road, to say the least.  After being the tenth overall pick in 2013, he made an immediate impact that season, posting 34 points in 79 games and it looked like the Stars had a top-six power forward in the making.  However, things have only gone downhill from there.
Injuries marred his sophomore season while he only had nine goals and 29 points in his third season while seeing his ice time drop.  Nichushkin's frustration with his role ultimately led him to go back to Russia for two years with CSKA Moscow of the KHL.  He didn't exactly light it up over there but he did play relatively well and did enough to earn a two-year, $5.9MM deal from Dallas last offseason.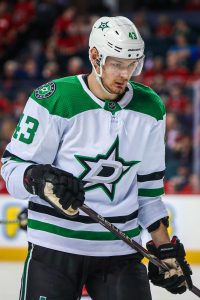 While the hopes that he could be a top liner were gone, the hope was that he could provide the Stars with some much needed secondary scoring for 2018-19.  It didn't happen.  Instead, he managed to go the entire season without scoring a single goal, recording just ten assists in 57 games.  While he had a few minor injuries over the year, he also spent a lot of time as a healthy scratch.  That's certainly not what anyone was expecting from him and isn't anywhere close to enough production for his $2.95MM price tag.
GM Jim Nill is now faced with a decision that a year ago would nearly seem unfathomable considering that they waited two years to get him back in Dallas.  Is it time for the Stars to part ways with Nichushkin?
As the winger is only 24, his buyout cost is considerably cheaper than the standard two-thirds cost.  The team would only be responsible for covering one-third of his deal, meaning that he'd only count against their salary cap for $700K for next season and $450K for 2020-21.  That would free up more than $2MM in cap room for 2019-20 and the Stars could certainly find someone that could be more productive than what Nichushkin brought to the table for that price tag.  u
On the other hand, there's no denying that he still has some upside.  Sure, he's probably not going to be a top scorer in the NHL but physicality with a bit of offensive punch still carries a lot of value around the league.  Giving up on Nichushkin so quickly (via buyout or trade) could be a decision that they come to regret down the road.
What should the Stars do with Nichushkin?  Have your say by voting in the poll below.
Mobile users, click here to vote.
Photo courtesy of USA Today Sports Images.