The Montreal Canadiens have acquired forward Denis Gurianov from the Dallas Stars in exchange for veteran forward Evgenii Dadonov. Per the team announcement, the Canadiens will retain 50% of Dadonov's $5MM cap hit.
This move re-unites Dadonov with Stars head coach Peter DeBoer, who was Dadonov's coach with the Vegas Golden Knights last season. While Dadonov has had his fair share of struggles this season (he has just 18 points in 50 games) DeBoer had a front-row seat last season for some of the best play Dadonov has to offer.
With the Golden Knights ravaged by injuries and Dadonov himself nearly traded away to the Anaheim Ducks, the Russian winger at times played like Vegas' best player, scoring at a strong rate and keeping the team in the playoff hunt far deeper into the year than many might have expected. He finished last season with 20 goals and 43 points and has a 70-point season on his resume.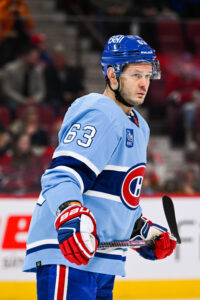 While Dadonov's struggles this season might give some fans pause, it is worth noting that Dadonov's play has been noticeably better of late.
He remains someone who has scored at least 40 points in three of five seasons since returning from the KHL, including two years where he scored at least 65 points.
The Stars have a far more talented set of offensive weapons than the Canadiens can boast, so it's easy to see why DeBoer, given his familiarity with Dadonov, would be comfortable acquiring the winger despite Dadonov's struggles this season.
It's not immediately clear where Dadonov will slot in on Dallas' lineup, as he may not be the best fit on the team's fourth line, where Gurianov was playing.
Perhaps he'll get a look next to Wyatt Johnston and Jamie Benn in Ty Dellandrea's right-wing spot should DeBoer choose to shift Dellandrea down the lineup, or this Dadonov deal could have been made with the intention of him serving as plug-and-play scoring depth should any of their established wingers be unavailable.
CapFriendly notes that this trade leaves the team with just over $2.1MM in deadline cap space, which is enough space for the Stars to be able to add another player should they choose to do so.
While Dadonov is a pending unrestricted free agent, Gurianov is an arbitration-eligible restricted free agent. For the Canadiens, this trade lands them a reclamation project, possibly a preferable option to the mid-to-late-round pick Dadonov would likely have net them had they targeted just a pick.
The 25-year-old winger was the 12th overall pick at the 2015 draft, and he has been a maddeningly inconsistent scorer. He has been excellent at times, such as the 2020 playoffs where he scored 17 points in 27 games, helping the Stars reach the Stanley Cup Final.
Other times, he has frustrated the Stars with his inconsistent night-to-night effort and inability to land on the scoresheet with any sort of regularity despite his tantalizing offensive tools.
The Canadiens' 2022-23 season is all about player development, and the team has made significant investments in the area of player development under the leadership of Jeff Gorton and Kent Hughes.
Head coach Martin St. Louis' reputation as a developer of talent is on the rise, with his work on Cole Caufield and Kirby Dach, among others, garnering praise. Accordingly, targeting Gurianov rather than just a draft pick is a show of faith by the team's front office in their coaching staff's ability to develop players.
It's no guarantee that Gurianov will be in Montreal for the long haul. With a $2.9MM qualifying offer required in the summer in order for the Canadiens to retain Gurianov's rights, it's possible that he's not even a Canadien beyond this season. But for a team whose player development goals have been dealt a serious blow due to injuries, adding Gurianov is a worthy gamble.
Photos courtesy of USA Today Sports Images