The Ottawa Senators have made a splash on the free agent market, signing Evgenii Dadonov to a three-year, $15MM contract. Dadonov was one of the highest-ranked free agents remaining on our Top 50 UFA list. Senators GM Pierre Dorion released a statement:
We're thrilled to have come to an agreement with Evgenii. He's an elite offensive talent and a very consistent scorer as demonstrated by his point totals over the last three seasons. This is a key signing for us as it adds a player who will help us produce offensively and one with a proven track record on the power-play.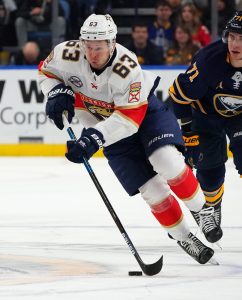 Pierre LeBrun of The Athletic reports that the deal also includes a 10-team no-trade clause. Dadonov will earn $3.5MM in 2020-21, $5.0MM in 2021-22 and $6.5MM in 2022-23.
The Senators are having quite the offseason, starting with the 2020 Entry Draft where they selected twice in the first five picks and six times in the first two rounds. The team then solidified the goaltending position by acquiring and extending Matt Murray, while also bringing in some physicality with the trade additions of Josh Brown, Erik Gudbranson, and Austin Watson.
While those additions may have seemed like a way to protect the young core, this move signifies that the front office believes they may be ready to compete sooner than expected. Dadonov, 31, is one of the better offensive players in the league and has recorded at least 25 goals in each of the three seasons since returning from the KHL. He'll immediately become one of the team's most dangerous options on the powerplay and can help lengthen out a lineup that was previously led by a bunch of very young players.
As with any signing the Senators make though, it is important to note how back-loaded the deal is. They have a history of moving players out before they get too expensive and with nearly half of the deal's salary due in the final season that could still be the case here. Still, the team has obviously decided that their competitive window is opening quickly and needed some more scoring punch.
With Dadonov off the board, former teammate (and former Senator) Mike Hoffman is now alone as the top available option. While mid-level players like Mikael Granlund and Erik Haula are also still unsigned, Hoffman is the only real "splash" player still looking for a home.
Photo courtesy of USA Today Sports Images