If Garth Snow had told the New York Islanders fans a couple of months ago that they might be buyers at the deadline, he'd likely be laughed out of the building. The early season struggles of the Islanders had people talking about their decisions to let Frans Nielsen and Kyle Okposo walk in the offseason, only to give a huge contract to Andrew Ladd. Through December 18th, the $38.5MM man had just seven points and looked like one of the biggest busts of the 2016 free agent class. The team was floundering near the bottom of the conference, and it looked like a lost season for the Islanders.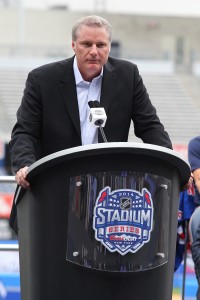 In the 20 games since, Ladd has 10 goals and 13 points, looking more like the consistent goal-scoring threat he has been throughout his career. The team has turned it around as well, and climbed right back into the East playoff race. At 62 points they've hopped over the Philadelphia Flyers and are just one behind the Maple Leafs for the final playoff spot.
That's what has new head coach Doug Weight and Snow looking at possibly adding at the deadline instead of selling, according to Arthur Staple of Newsday. Weight—who is still an assistant GM after moving from the front office to the bench when the Isles fired Jack Capuano—especially seems to think they can do something, telling Staple "we're in a position where we can really do something."
Staple lists Patrick Sharp, Radim Vrbata and Martin Hanzal as rentals that could help the Islanders over the last third of the season and all three would be solid additions. Lacking secondary scoring after John Tavares and whoever he ends up playing with on a nightly basis, Sharp and Vrbata would add some ability on the wings. Hanzal, a much discussed target heading into the deadline, would solidify the center ice position and allow Casey Cizikas to move back down into a more familiar role.
Whether the Islanders decide to buy will likely depend on the next five games (one of which they're losing 2-0 at the time of this writing) and where they sit when they shut down between February 26-March 1. If they can keep pace with the rest of the conference, they will likely decide that the window is now with Tavares and end up adding for the short or mid term. It seems unlikely that they would get into the Matt Duchene sweepstakes, but it is definitely a possibility. They do have a solid group of young defenders, the thing the Avalanche seem to covet most.
Photo courtesy of USA Today Sports Images.