While the expansion draft is set to headline a busy NHL offseason, there are still several other storylines for each team in the months ahead. Here is a closer look at what lies ahead for the New York Islanders.
Midseason coaching changes can often spark teams and that's what happened this season for the Islanders.  The team went 17-17-4 under Jack Capuano but after he was let go, they responded under Doug Weight, going 24-12-4 down the stretch.  It wasn't enough to make the playoffs but it certainly allowed them to go into the offseason with more optimism.  One key decision was already made by removing the interim tag for Weight; here are three other things that will draw GM Garth Snow's attention in the coming months.
Extension Talks For Tavares
Let's get the obvious one out of the way first.  Captain John Tavares is one year away from unrestricted free agency and is eligible to sign an extension as early as July 1st.  We saw in the past with Steven Stamkos the potential distraction that can arise when a deal doesn't get done prior to the start of a season.  Even this past year, Tavares was facing questions about his potential willingness to sign an extension before he's even eligible to do so.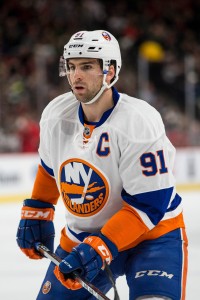 Each time that came up, the 26 year old reaffirmed his commitment to staying with the franchise that drafted him first overall back in 2009.  Accordingly, if they can find common ground on a new deal, this is one of those situations where the sooner it gets done, the better so that there is no potential for any distractions entering the season.
Finding the right fit financially becomes the challenge.  It's a certainty that Tavares is set to get a significant raise from the $6MM he's set to earn in salary in 2017-18 ($5.5MM cap hit).  There's a case to be made that he's worthy of a similar deal to Anze Kopitar of the Kings, eight years and $80MM.  Will Tavares look to maximize his pay day though or will he take a bit less as a 'hometown discount' and leave management a bit more room to work with?  Either way, his situation has to be priority number one for Snow this summer.
Determine If The Goalie Situation Is Feasible
Last season was a rocky one for Jaroslav Halak.  He struggled at the outset and was frustrated by the three goalie system that the team was employing and eventually asked for a trade.  Instead, he went on waivers and passed through unclaimed.  He was very good at AHL Bridgeport and wound up being recalled late in the year and played a role in their late push for the playoffs.  Does that mean his trade request is no longer in place though?
The three goalie issue isn't likely to recur as Jean-Francois Berube is heading towards Group VI unrestricted free agency and isn't expected to return.  However, Thomas Greiss, who took over the starting role for most of the season, is still with the team and is starting a new three year, $10MM deal.  Accordingly, he figures to enter 2017-18 as the expected starter once again.
Halak is heading into the final year of his contract with a $4.5MM cap hit and a $5MM salary.  It seems likely that he'll be hoping for more playing time so he could become someone to join what's expected to be a large goalie market in the hopes of finding him a better fit.  While there wasn't much interest midseason, his second half should get him back on the radar if the Isles think it's worthwhile looking at going in another direction.
Free Up Cap Space
While they don't have many contract spots to fill next season, the Isles are also pretty tight to the salary cap with just shy of $71MM committed already per CapFriendly.  They have ten forwards with a cap hit of $2.5MM or greater (though that includes Mikhail Grabovski who is a candidate to return to LTIR after his concussion symptoms cost him all of this season).  They have some players making more money than the role would call for.
They still also have defenseman Calvin de Haan to re-sign and he is due a qualifying offer of $2.9MM.  With the cap not expected to go up by a significant amount this offseason, that doesn't leave New York a whole lot of room to work with, even if Grabovski is LTIR-bound.  As a result, Snow will likely be working the phones to see if he can save a bit of payroll, especially if he has any plans of being involved in free agency in July.
Photo courtesy of USA Today Sports Images.