Vancouver Canucks fans were given an exceptional memory at the end of last season when franchise icons Daniel and Henrik Sedin played in their final game at home. The two combined for two goals and two assists—split just as you'd imagine between the twins, with Daniel scoring both—including the game-winner in overtime, and on the powerplay no less. The two would skate several laps around the rink to say farewell to their city and fan base, before eventually officially announcing their retirement at the conclusion of the season.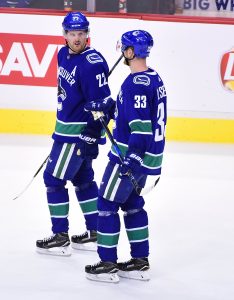 Now, the Canucks plan on giving a memory back to two of the best players in franchise history, and retire their numbers to the rafters. Owner Francesco Aquilini was on Sportsnet radio this morning and explained that the team is planning on holding the ceremony during the 2019-20 season during their 50th anniversary celebration. That doesn't mean just a single moment on the ice though, as Aquilini explained:
Daniel and Henrik are a big part of this community. They've given back so much, I mean they're just iconic players. Iconic players and iconic people, they're just amazing. So we're going to really do something special for them, and it's not just going to be one night, it could be like a week's long festivities. 
The Sedin twins were the faces (or is it just face?) of the Canucks franchise for nearly two decades following the draft floor magic that then-GM Brian Burke worked to secure both of them. Selected second and third overall in 1999, they finished with nearly identical career point totals—though accomplished in different ways—and each won an Art Ross Trophy as the league's highest scorer. Interestingly, only Henrik won a Hart Trophy as league MVP and only Daniel won a Lester B. Pearson Award (now Ted Lindsay Award) as Most Outstanding Player as voted by his peers. Inseparable both on the ice and in any hockey fan's memory, they'll see #22 and #33 go up to the rafters together next season.
Photo courtesy of USA Today Sports Images